Ezoic and Google AdSense are two of the most popular ad monetization platforms. Both display ads on your site but have different approaches.
AdSense is perfect to start monetizing your traffic right away — it's simple to use, covers the basic set of ad formats, and automatically handles the technical details but falls short if you want to maximize your earnings. Meanwhile, Ezoic is for growing sites that want more exposure to more ad inventory buyers. It also provides you with more aggressive ad layout optimization tools and gives you more control.
I also added Snigel to the mix because it offers something both Ezoic and AdSense don't: dedicated ad management experts that help you create, implement, and manage a fully customized ad setup and strategy for your site. It's for successful publishers that want a premium ad monetization service to maximize their revenue, while delivering a fast page load and a positive user experience that encourages return visits.
In this article, I compare Ezoic vs AdSense vs Snigel based on their approach to:
Ad layout optimization technology
Pricing structure & services
Publisher experience
Analytics
I'll also quickly touch on website performance tracking tools and page speed impact in the table below, but I won't review them in separate sections.
Google AdSense

Ezoic

Snigel

💰 Price

⭐⭐⭐


Revenue share model. 32%, & 49% of monthly revenue for display & search ads respectively. $100 minimum payout threshold*

⭐⭐⭐⭐


30-day free trial. Revenue sharing model starting at 10% of monthly revenue. Contracts with lock-in periods may be required. $20 minimum payout threshold.

🏆
⭐⭐⭐⭐⭐


Free access to ad management services

. Revenue share model. No lock-in contracts; cancel whenever. Net-30 payout. No minimum payout threshold.

🤖 Ad Layout Technolog

⭐⭐


No header bidding. Google automatically optimizes your ad space layout. Limited options for manual customization.

⭐⭐⭐


Header bidding effectiveness depends on your Ezoic account level. Has AI ad layout optimization which is sometimes too aggressive.

🏆
⭐⭐⭐⭐⭐


Header bidding. Advanced optimization with

adaptive ads, super adhesive, and flying carpets

. Each site gets a unique, customized setup.

🌞 Publisher Experience

⭐⭐⭐


Limited platform capabilities with access to only Google ad demand. Doesn't support header bidding.

⭐⭐⭐⭐


Complex ecosystem with multiple tools to optimize content monetization yourself.

🏆
⭐⭐⭐⭐⭐


Simple ecosystem with dedicated account managers to develop, manage and update your ad strategy for you.

⚙ Website Performance

⭐⭐⭐⭐


Leverages Google Analytics to provide insights on audience preferences.

⭐⭐⭐⭐


Diagnostic tools and features to optimize website and ad performance.

🏆
⭐⭐⭐⭐⭐


Actionable insights and regularly updated ad stack to comply with SEO best practices; customized by Snigel's experts.

📊 Analytics

⭐⭐⭐


Create custom reports to track specific metrics like clicks, page views, ad formats, and devices.

🏆
⭐⭐⭐⭐⭐


Real-time reporting and granular insights analyzing every piece of content on attributes like author, topic, etc.

⭐⭐⭐⭐


Dashboard with real-time reports. More granular insights available from your ad management expert.
👮‍♀️ Traffic Requirements
No traffic requirements
No traffic requirements
100k monthly traffic
🏅 Best for
Small sites and ad monetization beginners
Growing sites and experienced publishers that need more ad optimization options
Publishers with heavy site traffic that want a premium service to maximize their ad earnings.
Get started for free
Start your 30-day free trial
Contact us for a free assessment
What is AdSense?
"Friendly neighborhood ad superhero" 🏘️
Launched in 2003, Google AdSense allowed publishers to monetize their online content for the first time ever by displaying ads on their websites. Today it's used by over 58 million websites, making it the most popular monetization platform on the planet.
It offers a variety of customizable ad formats (display ads, text ads, & link units) and basic analytics tools to monitor ad performance and revenue. It also gives you (somewhat limited) options to choose what type of ads get displayed, to improve topical relevance and help with reader retention. You can easily start using AdSense on any website, using the many online resources to help you set up it up.
Since AdSense allows a very hands-off approach, it's perfect for small websites and newcomers, but the sub-par customer support and limited optimization tools make it unsuited for larger publishers that want higher revenue.
What is Ezoic?
"Ad monetization at your fingertips" 💻💸
Since its inception in 2010, Ezoic has grown to become an end-to-end platform for publishers looking to make money with their websites. Because of its low traffic requirements, it's one of the most popular ad monetization platforms, and you'll likely hear people mentioning "Ezoic" everywhere you go online.
Ezoic connects to multiple ad networks to ensure you get more revenue for each ad space. It also helps you keep track of ad performance, content performance, and revenue using its proprietary "Big Data Analytics" tool. Using this tool, you can adjust your monetization goals and get more or fewer ad units on your website. Ezoic also optimizes ad formats and layouts using a machine-learning algorithm that inserts more ads into the page if you want more ad revenue.
It's an ideal solution if you want a hands-on tool to improve your earnings with more exposure to ad inventory buyers and better ad-serving methods than what AdSense provides.
What is Snigel?
"Squeeze every dollar out of your ad inventory" 💰🤏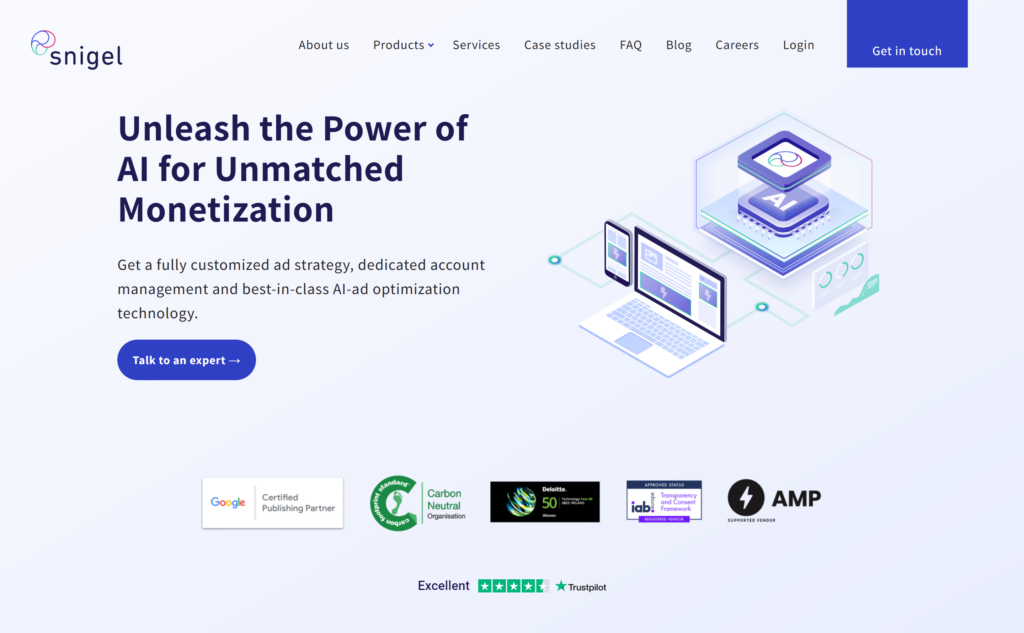 Snigel was founded in 2012 by two former Google executives who—after seeing the limitations of AdSense and other ad networks—set out to create a more transparent ad tech platform catering to the needs of premium publishers.
Snigel is a full-service platform. It includes a dedicated ad management expert who will become an extended member of your team. They will implement your monetization strategy, monitor performance, and provide ongoing optimizations. Snigel offers a comprehensive range of solutions including next gen ad formats, real-time reporting, video, Core Web Vitals optimization, a customizable CMP, AI optimized price floors and much more.. AdEngine (its header bidding & optimization solution) and AdStream (video ads) use all major demand sources, SSPs, and ad exchanges to ensure the highest possible bid for ad space.
Snigel is a premium service, ideal if you're a large publisher with heavy site traffic, and you want to maximize your earnings with state-of-the-art technology and a dedicated ad tech expert who continuously improves your ad strategy.
Ezoic vs Adsense vs Snigel: Ad Layout Optimization Technology
AdSense lacks header bidding, Ezoic uses a 'more ad units' approach for ad optimization, while Snigel offers customized ad monetization and advanced ad placement with AI algorithms 
| AdSense | Ezoic | Snigel |
| --- | --- | --- |
| ⭐⭐⭐ | ⭐⭐⭐⭐ | ⭐⭐⭐⭐⭐ |
Snigel and Ezoic have header bidding wrappers while AdSense doesn't.
Header Bidding increases your site's revenue by allowing multiple ad exchanges and demand partners to simultaneously bid on your ad inventory in real-time. The increased competition drives up the bid prices for your ad space, ultimately resulting in higher RPMs (ad revenue per thousand impressions) and increased revenue for your site.
In other words, AdSense limits your ad space to Google Ads advertisers (see the last row in the image above), while the AdSense alternatives use various demand-side and supply-side platforms, including Google AdX and Google Ads to find the highest bid for your ad space.
Ezoic and Snigel also have other revenue optimization technologies that they use in conjunction with Header Bidding to increase your site's revenue…
Ezoic further improves your ad revenue by adding more ad units, though it's sometimes too aggressive.
In addition to header bidding, Ezoic uses artificial intelligence to insert more ad units, test and optimize placements, sizes, and formats of ads on your website, based on user behavior and preferences. This helps you further improve revenue.
In practice, though, some users have reported that Ezoic's AI system is oftentimes too aggressive, "injecting lots of ads into the website which slows down the page load and ultimately makes for a poor user experience".
Snigel has a customized approach to ad monetization.
Snigel, on the other hand, provides a more customized and tailored approach by connecting you with an ad monetization expert who will create a custom ad stack based on your requirements. These ad stacks are tailored to your specific niche, topical relevance, revenue goals, traffic patterns, and user experience preferences. This ensures that the ads shown on your pages are not only high-paying but also relevant and non-intrusive to your readers.
Like Ezoic, Snigel also uses AI-driven algorithims to optimize the adstack. This includes changing the floor prices every hour for users based on thier GEO, device and bandwidth to combat bid shading and rotating bidders client or server side based on their performance.
As a result of this personalized approach involving human judgement, and its advanced header bidding technology, Snigel consistently outperforms Ezoic in a like-to-like ad setup with the same number of ad units, yielding RPMs that are 20-30% higher.
To further maximize RPMs, Snigel has developed proprietary technology: adaptive ads, super adhesive, and flying carpet.
Besides the personalized approach, Snigel offers some of the most advanced ad optimization technology on the market. It has three methods of generating as much revenue as possible from your ad inventory:
Adaptive ads adjust your ad space to accommodate different ad dimensions. For example, if you have space for a 300x600 ad with a $1 CPM, Snigel can split it into two smaller 300x250 ads. Although each smaller ad may have a lower CPM (for example, $0.8), together they generate $1.6, increasing your overall revenue.
Super adhesive ads display larger ads in smaller spaces. For example, Snigel can show a 970x250 ad in a 970x90 space. The ad scrolls with the user, ensuring the entire ad is seen. Since larger ads typically have higher CPMs, this approach can again increase your overall revenue.
Flying carpet and Parallax ads appear within a page's content and also display larger ads in smaller spaces. Like super adhesive ads, they scroll with the user, ensuring the entire ad is seen.
Snigel's publishing partners have reported positive experiences with these features.
Winner: Although Ezoic uses AI to adjust the ad layout, the combination of a customized monetization strategy with advanced ad technology makes Snigel the best choice for publishers seeking to increase RPMs while still providing a good user experience to their readers.
Ezoic vs Adsense vs Snigel: Pricing Structure & Service Overview
AdSense has simple pricing but lacks advanced ad tech, Ezoic has lock-in contracts and can limit access to ad partners, while Snigel includes full service with its revenue share model.
| AdSense | Ezoic | Snigel |
| --- | --- | --- |
| ⭐⭐⭐ | ⭐⭐⭐⭐ | ⭐⭐⭐⭐⭐ |
There are a few things we need to keep in mind when talking about ad platform monetization:
The RPM (return per 1,000 pageviews) of your ads
The platform's pricing structure and their service
Your cut of the revenue
All three platforms follow a revenue-sharing model.
AdSense pricing is simple and predictable, but its high revenue share and lack of advanced ad technology means you'll likely have higher returns with Ezoic or Snigel.
You can join AdSense for free with no minimum traffic requirements. Their revenue share model is divided into two categories: AdSense for content (displaying ads on your website) takes 32% and AdSense for search (embedding Google search on your website) takes 49% of your revenue.
The biggest benefit of AdSense is that it has simple payment terms and you can close your account any time you want. It's also easy to predict your AdSense revenue once you've run it for a while and have a good understanding of your RPM.
AdSense is a great starting point for beginners because you can easily test it and switch to something else once you've outgrown it. But its revenue share (and the fact that it doesn't have advanced ad tech) means you'll almost certainly have higher returns with Ezoic or Snigel.
Ezoic's revenue sharing and access to ad partners depend on your Ezoic Level, and their premium option requires a one-year contract.
Ezoic's model divides customers into 6 different "Ezoic Levels" depending on monthly traffic and revenue:
| Access Now | Level 1 | Level 2 | Level 3 | Level 4 | VIP |
| --- | --- | --- | --- | --- | --- |
| <10.000 traffic, no revenue | >10.000 traffic >$50 | >20.000 traffic >$200 | >50.000 traffic >$500 | >250.000 traffic >$2.500 | >500.000 traffic >$10.000 |
Depending on your level, you can choose between two revenue sharing options:
Ezoic Standard: Available for all levels, it charges 10% of your monthly revenue.
Ezoic Premium: Only for level 2 users and above, the revenue share percentage varies based on your level.
Ezoic's low percentage and ad optimization features usually result in higher revenue than AdSense. However, lower levels don't have access to all of Ezoic's ad partners, limiting your earnings. Additionally, Ezoic's requirement for Premium is a minimum one-year contract, preventing you from switching from your Ezoic account to another ad partner (unless you pay 50% of the remaining yearly premiums), and oftentimes leading to customer stories like this one.
As a result of this personalized approach involving human judgment, and its advanced header bidding technology, Snigel consistently outperforms Ezoic in a like-to-like ad setup with the same number of ad units, yielding RPMs that are 20-30% higher.
Snigel's revenue sharing is a 80/20 split with no hidden fees, and they offer personalized support and advanced ad technology for higher RPMs.
Snigel's deal is simple: an 80/20 split, where you receive 80% and they take 20%. There are no hidden fees, and you can stop working with them at any time.
To join their program, you must meet certain standards that ensure a high-quality network for advertisers and publishers:
No/low bot traffic
Earnings of at least $50 USD per day or traffic that is growing fast
High-quality content that is not subject to copyright claims
At least 100k page views per month, with >20% from tier 1 GEOs
The net revenue aspect is important here. After accounting for all revenue shares, Snigel consistently delivers 20-40% more net ad revenue to publishers compared to AdSense and Ezoic, because of its advanced ad technology and personalized strategies.
Moreover, Snigel has several advantages:
No lock-in period, giving you the freedom to leave whenever you want
Access to ad experts for continuous, personalized assistance
A net 30 payment cycle
Winner: Snigel. With a transparent 80/20 revenue split, no hidden fees, and a dedicated adtech expert for support, Snigel offers the best value for publishers looking for higher RPMs and a hassle-free experience.
Ezoic vs Adsense vs Snigel: Publisher Experience
AdSense is set & forget, Ezoic requires a hands-on approach, and Snigel provides you with experts that do the work for you.
| AdSense | Ezoic | Snigel |
| --- | --- | --- |
| ⭐⭐ | ⭐⭐⭐⭐ | ⭐⭐⭐⭐⭐ |
AdSense and Ezoic are self-service, while Snigel is a full-service ad platform.
Both AdSense and Ezoic require you to set them up yourself.
AdSense is easy: you only need to add code to your site and enable "Auto Ads", and ads will start appearing on your site automatically. Note that you can choose to remove specific ad categories from showing up on your site. This way, your ads will be more relevant to your readers, but some buyers won't be able to bid on your ad space.
On the other hand, Ezoic has a complicated setup process that involves changing nameservers and creating ad placeholders by hand. This can be challenging for new users or for those with little technical skills.
However, Ezoic gives you many options for optimizing ads, including an Ad Tester feature — a tool that lets you create up to 100 ad units and test various sizes, locations, types, and quantities to find the best options for each user. If you have time to invest into learning about adtech and optimizing an ad setup this can be a good fit. It's also best to allocate several hours per week to continuously improve your ad setup and run A/B tests to get the most out of your website.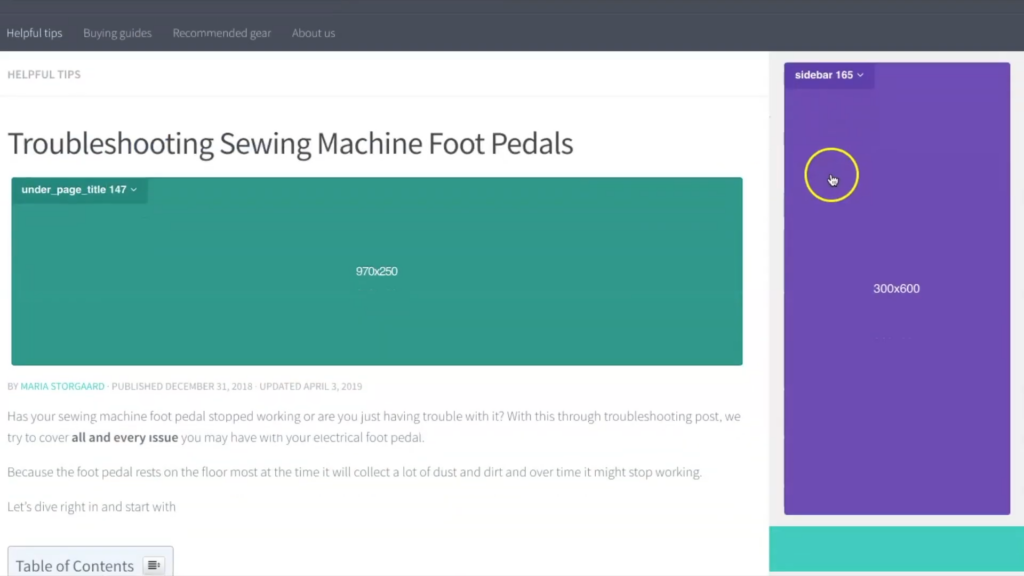 Finally, Snigel is a full-service platform that manages the ad stack on behalf of bloggers, website owners, and publishers. Every Snigel customer gets a dedicated ad management expert that develops customized ad setup based on your content, traffic patterns and monetization strategy.
After onboarding, your account manager keeps monitoring your site, continuously A/B tests new ad settings, formats and features, and offers tips for ongoing improvements — for both monetization and Core Web Vitals. This solution is ideal for website owners that want all the benefits of an adtech expert who will continuously optimize the site and make daily improvements, and don't want the hassle and time commitment required to manage the ad setup and strategy themselves.
AdSense and Snigel integrate with YouTube, while Ezoic has its own video management platform.
Google AdSense discontinued AdSense for Video and thus no longer supports video ads for websites.
Ezoic has its own video management tool called Humix. It's separate from YouTube, which means you don't have to share your earnings.
Using Ezoic, other publishers can also share your videos on their websites, opening an entirely new revenue stream. However, Ezoic requires that your videos are hosted on Humix, which may not be suitable if you're already getting many views on Youtube.
Snigel's AdStream platform increases time-on-site and user engagement by displaying high-quality video ads relevant to your websites. It seamlessly integrates with Youtube — making it easier for you to monetize your video content. You can also work with your Snigel account manager to create videos for your site using syndicated content, if you don't already have video content.
Winner: Snigel. Its dedicated ad experts and tools make it easier for publishers to create, implement, manage, and optimize their ad monetization strategy.
Ezoic vs Adsense vs Snigel: Analytics
Ezoic offers real-time reporting and analytics, AdSense integrates with the Google ecosystem for insights, and Snigel combines an intuitive dashboard with support from a dedicated account manager.

| AdSense | Ezoic | Snigel |
| --- | --- | --- |
| ⭐⭐⭐ | ⭐⭐⭐⭐⭐ | ⭐⭐⭐⭐ |
Ezoic provides real-time reports and analytics to help you understand your website's performance.
The Ezoic ad performance platform 'Big Data Analytics' gives you real-time reports and analytics to help understand how your website and visitors are affecting your earnings. The dashboard shows which content earns the most money and why, by examining factors such as author, category, topic, and word count.
You can also create custom reports by using filters to compare specific data like visits, pageviews, and bounce rate. That said, publishers can only access website analytics through Ezoic Leap, which is a completely independent platform, making it a little difficult to get a holistic picture. You will spend time organizing and understanding the data — time that could be spent on revenue-generating tasks like creating content.
AdSense makes use of the entire Google ecosystem to provide powerful insights.
Your  AdSense ad account shows a summary of your earnings with the Performance overview. You can see data for sites, countries, ad types, and pages.
You can also link your AdSense account to Google Analytics for a deeper understanding of how ads are affecting your website.
Snigel provides an easy-to-understand dashboard and real-time updates, with personalized support from a dedicated account manager.
Snigel's AdVantage shows your ad performance in an easy-to-understand dashboard. The interactive analytics portal gives real-time updates and personalized reports based on RPM, impressions, ad requests, and CTR. You can also track your website's ad performance using the mobile web app.
While AdVantage may not have as granular detail as Ezoic's analytics (like showing the author breakdown for a specific page), your dedicated account manager can give you this information. In my opinion, this isn't really a drawback since the account manager handles most of the optimization for you and they can always generate a report if you want to see more details.
Winner: Ezoic. The real-time reports and granular metrics let you track and analyze every aspect of your ad's performance — from your whole site, to the individual ad space on every page. And it makes sense; Ezoic is a self-service platform, so you need the details to make informed decisions on your own.
Ezoic vs Adsense vs Snigel: Pros & Cons
AdSense Pros

AdSense Cons

✅ Links to Google ecosystem
(GA, YouTube)
❌ No header bidding
✅ Easy-to-use, self-service platform
❌ Only uses Google's ad demand
✅ Low impact on page load speed
❌ High revenue sharing percentages
✅ Set-and-forget system
Ezoic Pros

Ezoic Cons

✅ Header bidding
❌ Performance-based tool access (Ezoic levels)
✅ 30-day free trial
❌ Can only use tools within the Ezoic ecosystem
✅ Complete ecosystem for content monetization
❌ Huge learning curve
✅ Multiple ad formats
❌ Complex pricing structure
✅ Granular, real-time analytics
❌ Lock-in contracts
❌ Some website owners report that too
many ads are shown on the website
Snigel Pros

Snigel Cons

✅ Header bidding
❌ Limited to sites making at least $50 USD per day or ones
with significant growth potential and high-quality content
✅ Full service package
❌ Selective publisher partnerships
✅ Proprietary ad optimization technology
❌ Advanced analytics accessible via
your account manager instead of the dashboard
✅ Custom revenue sharing model
✅ Dedicated ad tech expert for your site
✅ Page load speed and Core Web Vitals
✅ No contract lock-ins
Final Verdict: Ezoic vs Adsense vs Snigel
AdSense is for ad monetization beginners, Ezoic for publishers with growing sites that want a more hands-on approach, while Snigel is for large publishers that want to maximize their ad revenue.

Google AdSense

Ezoic

Snigel

Best for:
Small sites and ad monetization beginners that want to monetize their first website

Best for:
Growing sites and experienced publishers that want a hands-on toolset and more optimization options

Best for:
Publishers with heavy traffic that want a premium full service to maximize their ad earnings.
So, which one's the best ad network: AdSense vs Ezoic vs Snigel?
Your best bet is trying all three platforms and seeing which one works best for you. But if you ask me…
Use AdSense if:
You don't have much technical knowledge.
You are just starting out and want to monetize your site.
You are looking for a simple set-and-forget platform that does all the heavy lifting.
Click here to get started with Google AdSense!
Use Ezoic if:
You are looking for a toolset that lets you optimize your ads.
You have a growing site with more than 20,000 monthly visitors.
You have the technical knowledge and time to set up and manage your ad stack.
Click here to get started with Ezoic!
Use Snigel if:
Your site has at least 100k page views per month and 20% traffic from tier 1 GEOs
You are looking for a full service with a dedicated account manager who will do the work for you
You want access to advanced ad tech tools that squeeze the most revenue out of your ad inventory.