Both Ezoic and Mediavine are ad display networks that help monetize your website through display ads. However, they approach the challenges differently. Ezoic is ideal for experienced bloggers with expanding sites who prefer hands-on optimization options and access to a broader range of ad inventory buyers. On the other hand, Mediavine suits lifestyle bloggers seeking niche-specific ad stacks in categories like food, parenting, travel, home, personal finance, health, arts, hobbies, or fashion.
I also included Snigel in the comparison because it provides a unique service: dedicated ad management experts who assist in creating, implementing, and managing the most relevant ad setup for your site. It's ideal for successful publishers seeking a premium ad monetization service with proprietary technology that enhances reader engagement and earnings while ensuring fast page load speeds and a positive user experience.
In this article, I compared Ezoic vs Mediavine vs Snigel based on the following criteria:
Ad Layout Technology
Publisher Experience
Analytics
Price
I also touched on website performance optimization, page speed impact, and requirements to help you find the best ad platform for your situation. Here's how they stack up.
Ezoic

MediaVine

Snigel

💰 Price

⭐⭐⭐


30-day free trial. Complex revenue sharing model starting at 10% of monthly revenue. Contracts with lock-in periods.

⭐⭐⭐⭐


Revenue share model starting at 25% of monthly revenue. Three-month lock-in period.

🏆
⭐⭐⭐⭐⭐


Free access to ad management services

. Revenue share model. No lock-in contracts, cancel whenever. Net-30 payout.

🤖 Ad Layout Technology

⭐⭐⭐⭐


Header bidding effectiveness depends on Ezoic level. Has AI ad layout optimization which is sometimes too excessive.

⭐⭐⭐


Header bidding. Optimization is mainly focused on site speed impact with lazy loading.

🏆
⭐⭐⭐⭐⭐


Header bidding. Advanced optimization with

adaptive ads, super adhesive, and flying carpets

.

🌞 Publisher Experience

⭐⭐⭐⭐


Complex self-service ecosystem with multiple tools and resources to optimize content monetization yourself.

⭐⭐⭐⭐


Self-service platform with a vibrant publisher community and customer support.

🏆
⭐⭐⭐⭐⭐


Simple ecosystem with a dedicated monetization expert to develop, manage and update your ad strategy for you.

⚙ Website Performance

⭐⭐⭐⭐


Proprietary platform with tools to optimize website and ad performance with Google's Core Web Vitals in mind.

⭐⭐⭐


Resources and tools to optimize website's page load speed for a better user experience.

🏆
⭐⭐⭐⭐⭐


Actionable insights and regularly updated ad stack to comply with SEO best practices; customized by a dedicated account manager.

📊 Analytics

🏆
⭐⭐⭐⭐⭐


Real-time dashboards and tools to analyze every piece of content on attributes like author, topic, etc.

⭐⭐⭐⭐


Simple dashboard to track ad revenue by page and website health.

⭐⭐⭐⭐


Dashboard with real-time reports. More granular insights available with your dedicated ad management expert.
👮‍♀️ Traffic Requirements
No traffic requirements
50k monthly sessions
100k monthly traffic
🏅 Best for
Growing sites and experienced publishers that want a hands-on toolset and more optimization options.
Bloggers in the food, parenting, travel, home, and lifestyle niches.
Publishers with heavy site traffic that want a premium service with a dedicated ad tech expert to maximize their ad earnings.
Start your 30-day free trial
Apply today
Contact us for the price
What is Ezoic?
"Ad monetization at your fingertips" 💻💸
Since its inception in 2010, Ezoic has grown to become an end-to-end platform for publishers looking to make money with their websites. Because of its low traffic requirements, it's one of the most popular ad monetization platforms, and you'll likely hear people mentioning "Ezoic" in online communities.
Ezoic provides all the tools a publisher needs to convert their hobby into a business. It connects its publishers with a comprehensive advertising network to provide a large bidding pool for ad spaces. Publishers get access to tools like Leap to optimize website performance, Ezoic Ads to maximize ad revenue, and Humix to monetize their video content. It was also the first platform to enhance its solutions using AI and machine learning to provide powerful insights in real-time, putting publishers in the driver's seat of their ad and content strategy.
The solution is designed for seasoned bloggers and marketers looking for the complete toolbox to scale and optimize their ad monetization strategy.
What is Mediavine?
"For Publishers, By Publishers" 🧑‍💻↔️🧑‍💻
In 2004, Eric Hochberger and Stephen Marsi started the Mediavine ad network with the mission to help content creators grow their brands and companies and become self-sustaining.
Mediavine helps its select group of publishers multiply their earnings by using ad technology developed and tested on their own websites. Their ad networks are carefully curated to provide highly relevant ads using vertical ad networks, i.e. niche-specific ad networks. All their ads meet the Better Ads Standards set forth by the Coalition for Better Ads, of which Mediavine is a member. This is supplemented by educational resources and integrations to optimize your content as well.
This approach has helped over 8,600+ content creators in the food, parenting, travel, home, and lifestyle niches grow their businesses while maximizing their ad revenue.
What is Snigel?
"Squeeze every dollar out of your ad inventory" 💰🤏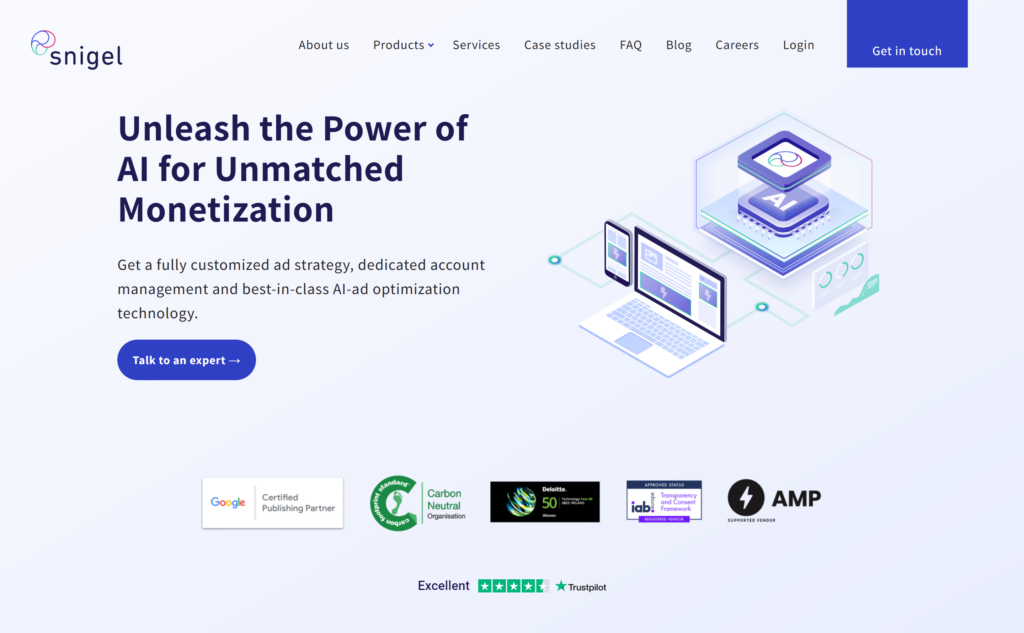 Realizing the limitations of AdSense, ex-Googlers Chris Krischnig and Peter Gallagher started Snigel in 2012 to build a more transparent ad tech ecosystem dedicated to the success of the content creator.
Snigel sees its success in its publisher's success, and this mantra is reflected in everything they do. Its team of ad tech experts creates and optimizes ad monetization strategies customized to each publisher's unique needs. Snigel offers two products to maximize revenue from ad inventory: AdEngine (Snigel's header bidding solution) and AdStream (Snigel's video ads solution). Publishers can track their ad performance using AdVantage, Snigel's real-time interactive dashboard, or reach out to their monetization expert for guidance at any time.
Snigel's services are ideal for busy content creators with large sites that need a trusted premium service to maximize their ad revenue while leaving them free to focus on what they do best — developing great content, growing their audience, and creating the optimal user experience.
Ezoic vs Mediavine vs Snigel: Ad Layout Optimization
Ezoic uses AI for ad optimization, Mediavine focuses on optimizing ads for page speed, and Snigel offers customized ad monetization strategies and advanced ad placement with AI algorithms
| Ezoic | Mediavine | Snigel |
| --- | --- | --- |
| ⭐⭐⭐⭐ | ⭐⭐⭐ | ⭐⭐⭐⭐⭐ |
All three offer header bidding capabilities, but have subtle differences influenced by their target audience.
Header bidding is a modern advertising technology that allows publishers to offer their ad space to multiple ad providers (ad networks or exchanges) at the same time.
This approach replaces the traditional method—which sold ad space in a sequential manner—by allowing multiple advertisers to bid on ad space simultaneously. The highest bidder wins the auction and gets to display their ad on the website. This creates more competition and higher prices for your ad inventory, increasing revenue.
Mediavine focuses on optimizing your ads for maximum load speed.
Mediavine uses Lazy Loading where ads load as the user navigates to that place on the website to get more ad impressions, increasing your revenue.
It uses an automated system called script wrapper to find the optimal ad position in real time. But, if you want to control the ad placement, you can manually add a piece of code to let the system know how many ads you want to see per page.
For example, three ads will be displayed on the page if you insert the code three times. This manual process is cumbersome and may require the assistance of a web developer if you are not experienced with coding.
Also, they recently transitioned from a client-to-server to a server-to-server header bidding model which means that the process happens directly between their servers and the advertisers, instead of through your browser.
This makes the bidding process faster and decreases site-load speed. If you're an experienced blogger, you know that site speed is important when you're loading long articles with heavy images.
Ezoic further optimizes your ads with AI, though sometimes it gets too excessive.
Ezoic not only employs header bidding, but also utilizes artificial intelligence to experiment with and fine-tune ad placements, sizes, and formats on your website. This approach aims to optimize revenue and give publishers the ability to make granular changes to the ad setup.
However, some users have experienced issues with this system — it can place too many ads on a website, causing slower page load times and a negative user experience.
Snigel has proprietary technology to maximize your RPM with advanced ad placement techniques: AI bidder optimization, adaptive ads, super adhesive, and flying carpets.
In addition to their personalized approach where a custom ad setup is created for each website, Snigel offers some of the most advanced ad optimization technology on the market.
AI bidder optimization ensures that SSPs and bidders are rotated to the client or server side based on their performance. By having fewer bidders on the client side, Snigel is able to generate faster page load speeds while maximizing revenue.
Adaptive ads dynamically adjust your ad space to fit different ad sizes. For instance, if you have a 300x600 ad space with a $1 CPM, Snigel can divide it into two 300x250 ads. Although each smaller ad might have a lower CPM (e.g., $0.8), their combined revenue is $1.6, resulting in increased earnings overall.
Super adhesive displays larger ads within smaller spaces. For example, Snigel can display a 970x250 ad within a 970x90 area. The ad moves along with the user's scrolling, making sure the entire ad is visible through a parallax effect. As larger ads generally have higher CPMs, this method can boost your total revenue.
You may be concerned that these techniques could make your ad space less attractive to buyers. However, Snigel partners have reported positive experiences when using these features.
Snigel also has a customized approach to ad monetization.
Snigel offers a more customized and tailored approach by connecting you with a dedicated ad monetization expert.
This expert develops a custom ad strategy specifically for your needs, taking into account factors like your niche, content relevance, revenue targets, traffic trends, and user experience preferences. This guarantees that the ads displayed on your site are not only profitable but also relevant and unobtrusive to your readers.
Similar to Ezoic, Snigel also employs algorithms driven by artificial intelligence to fine-tune its ad stack. This involves adjusting the minimum floor prices on an hourly basis for users, considering their geographical location, device, and bandwidth to counter bid shading. Additionally, it switches between client and server-side bidders depending on their performance.
This custom approach involving human judgment, combined with its AI technology, allows Snigel's publishers to earn 20-30% more than Ezoic's in a like-to-like ad setup with the same number of ad units.
Winner: Snigel is the best choice for publishers seeking to increase RPMs while still providing a good user experience to their readers, thanks to the combination of a custom monetization strategy with advanced AI technology.
Ezoic vs Mediavine vs Snigel: Pricing Structure and Services
Snigel and Mediavine keep things simple with a fixed revenue sharing model, while Ezoic's pricing is more complex
| Ezoic | Mediavine | Snigel |
| --- | --- | --- |
| ⭐⭐⭐ | ⭐⭐⭐⭐ | ⭐⭐⭐⭐⭐ |
All three services follow a revenue sharing model but there are a few things we need to consider about their offerings before making a decision:
The RPM (return per 1000 impressions) of your ads,
Their publisher selection process, and
Your cut of the revenue.
Mediavine offers a 75/25 split but only works with websites looking for a long-term commitment.
Mediavine follows a fixed 75/25 revenue-sharing model where the publisher takes home 75% of their monthly ad revenue.
All publishers need to do is fulfill the following minimum requirements:
50,000 sessions in the previous 30 days (per Google Analytics)
Good standing with Google AdSense
Original, engaging, long-form content (minimum 1000-1500 words)
Publishing in a lifestyle niche, such as Food, Travel, Personal Finance, Family, Home & DIY, Arts & Entertainment, Health & Fitness, Hobbies, and Style & Fashion
Publishers receive a 1% loyalty bonus each year, up to a maximum of 5% after five years, which means your revenue share can increase to 80% over time.
They also have a 90-day lock-in period for new members, after which your contract is renewable every 30 days. If you wish to leave the program, you must provide written notice 30 days before the extension date.
While Mediavine offers higher RPMs than Ezoic, they don't allow partnerships with other ad management services. These limitations are set because the company is looking for long-term commitments.
Ezoic uses a complex performance-based pricing system that locks certain ad opportunities on lower levels.
Ezoic gives you a 30-day free trial to try out all their platforms and services. But if you decide to stick around, keep in mind that their pricing structure is complex — they split publishers into six different 'Ezoic Levels', depending on the number of monthly traffic and revenue:
| Access Now | Level 1 | Level 2 | Level 3 | Level 4 | VIP |
| --- | --- | --- | --- | --- | --- |
| <10.000 traffic, no revenue | >10.000 traffic >$50 | >20.000 traffic >$200 | >50.000 traffic >$500 | >250.000 traffic >$2.500 | >500.000 traffic >$10.000 |
Depending on your level, you can choose between two revenue sharing models:
Ezoic Standard: Available for all levels, it charges 10% of your monthly revenue.
Ezoic Premium: Only for level 2 users and above and the revenue share percentage varies based on your level.
As an Ezoic user, your access to ad networks and services is determined by your level. Which can limit your earning potential unless you qualify for higher levels because you may not get access to the best-paying ads.
Moreover, Ezoic Premium comes with a minimum one-year contract, so if you want to switch to another ad partner, you'll have to pay 50% of the remaining yearly premiums which oftentimes leads to customer stories like this one.
Snigel offers an 80/20 revenue split with no hidden charges, personalized support, and AI ad technology for improved RPMs.
Snigel has a straightforward deal: an 80/20 revenue split where you keep 80% and they take 20%. There are no hidden fees, and you have the flexibility to terminate the collaboration whenever you want.
However, you must meet specific requirements they use to maintain a high-quality network for both advertisers and publisher:
Minimal or no bot traffic
Daily earnings of at least $50 USD
High-quality, original content free from copyright issues
A minimum traffic of 100k monthly page views, with ideally 20% or more of your traffic from tier 1 geographic locations
The emphasis on net revenue is crucial. After considering all revenue shares, Snigel consistently yields 20-40% more net revenue for publishers compared to alternative solutions. Additionally, it boasts several benefits:
No lock-in period, allowing you to leave at any time
Ongoing, personalized support from ad experts
Pays on a NET 30 basis (completed month of activity + 30 days)
All three offer a similar revenue split but ultimately, Snigel offers a better, more complete service (more on this below), saving you time and headaches.
Winner: Snigel is your best option with a simple 80/20 revenue split, custom ad management, and advanced ad technology for a higher RPM and hassle-free experience.
Ezoic vs Mediavine vs Snigel: Publisher Experience
Ezoic and Mediavine require a hands-on approach during setup and optimization, while Snigel provides experts that do the work for you
| Ezoic | Mediavine | Snigel |
| --- | --- | --- |
| ⭐⭐⭐⭐ | ⭐⭐⭐ | ⭐⭐⭐⭐⭐ |
Snigel is a full-service ad management company.
Snigel is a full-service platform, i.e. they manage the ad stack on behalf of their publishers. As their customer, you will get a dedicated ad management expert who will create and optimize a custom ad setup based on your content, user base, and monetization strategy.
Once you're onboarded, your account manager stays actively involved with your site, consistently running A/B tests to improve ad settings, formats, and features, while also suggesting new tactics (including monetization and Core Web Vitals).
This approach is perfect if you would rather avoid the stress and free up the time needed to manage the ad setup and strategy by yourself.
Ezoic and Mediavine are self-service platforms.
Ezoic gives full control over your ad monetization approach with various ad types, number of ads, layouts, and AI-enhanced optimization options to increase revenue.
The Ad Tester feature lets you run A/B tests and develop an ad strategy that works with your content strategy. By tailoring ad placements and types to your content strategy, you can create a unified experience based on your niche. However, it's important to note that you won't have complete control over ad content, as Ezoic displays ads from DSPs based on your Ezoic level.
It also offers a WordPress plugin and a Chrome extension that help you manually set the ad layout with placeholders or suggest the best positions automatically. However, there have been reports of Ezoic's Chrome extension slowing down websites; so keep that in mind if you're thinking of using it.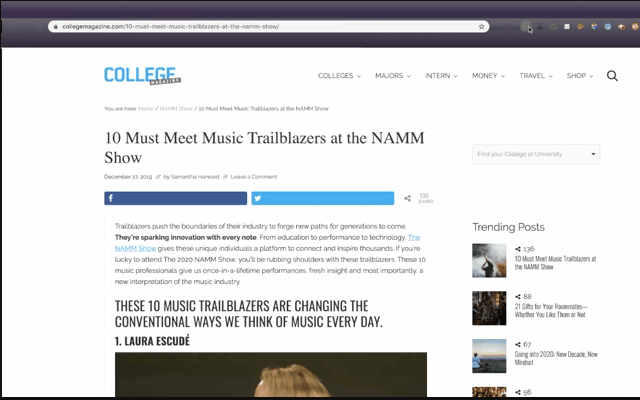 If you're ready to tackle a learning curve in ad tech and willing to tweak your setup, Ezoic could be a good fit for you. Also, it's a good idea to carve out a couple of hours each week to keep improving your ad setup (running A/B tests and all), to really get the most bang for your buck from your website.
Mediavine claims to be a full-service ad management company but it doesn't provide the same custom service as Snigel. Instead, they give you the tools and information to manage your ad strategy without dedicated ad experts for guidance. This has both advantages and disadvantages.
One advantage is that you can manage every aspect of your ad monetization strategy using the Mediavine dashboard, including selecting the ad type, position, frequency, and categories you want to display.
The disadvantage is that you need to spend a considerable amount of time setting up your Mediavine account, learning how it works, and optimizing your ad strategy. However, with the help of Mediavine's extensive help center, customer support team, and active Facebook community, the process shouldn't be too overwhelming.
Snigel integrates with YouTube, while Ezoic and Mediavine have their own video management platforms.
Ezoic offers Humix, its proprietary video management platform, to host your videos and run ads. It's separate from YouTube, which means you don't have to share your earnings.
Other publishers can also share your videos on their websites, bringing in revenue from an entirely new stream. However, your videos have to be hosted on Humix, which may not be suitable if you've already developed an audience on YouTube.
Like Ezoic, you'll need to upload your YouTube videos to Mediavine to monetize them. You can add a CTA at the end of your videos asking viewers to subscribe to your YouTube channel.
Mediavine offers two video management platforms:
Mediavine Video Player to upload and share your own videos on your website.
Universal Video Player to play short out-stream video ads if you don't have videos of your own.
You can prioritize your highest-earning videos to maximize your revenue.
Snigel's AdStream platform increases time-on-site and user engagement by displaying high-quality video ads relevant to your websites — it's essentially an extra revenue stream.
AdStream's video ad units are customizable to meet size, prominence, and viewability goals. Whether you want them nestled in your content or floating on the side, it's all up to you. And don't worry about figuring it out alone — Snigel's team will help you create the perfect setup for both mobile and desktop, keeping your revenue and user experience goals in mind.
AdStream also smoothly pairs with YouTube and can monetize your existing video content and promote your channel using a service called Instream. It serves ads before, in the middle, and after video content, and is a great way to make an extra buck if you've got existing content on YouTube.
But what if you don't have any videos yet? No problem! Snigel's ad experts can either help you create videos using resources from your website or supply you with syndicated content.
Alternatively, you can go straight for additional revenue with Outstream. These units place video ads that play automatically as they are viewed. The ads will show as the user is viewing the video unit, and if there's no ad to display, the unit neatly folds away.
These units are especially effective for sites with lots of tier 1 traffic and are a breeze to set up compared to Instream units.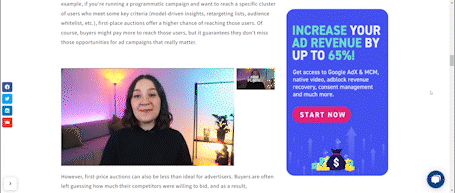 Winner: Snigel's full-service management services make it easier for busy content creators to get the most out of their ad monetization strategy and time. Additionally, its AdStream service is an amazing way to make extra revenue — whether you already have video content or not.
Ezoic vs Mediavine vs Snigel: Analytics
Ezoic's real-time reporting and analytics tools are best in class, Mediavine offers basic reports, and Snigel has an intuitive dashboard and an account manager with in-depth information
| Ezoic | Mediavine | Snigel |
| --- | --- | --- |
| ⭐⭐⭐⭐⭐ | ⭐⭐⭐⭐ | ⭐⭐⭐ |
Ezoic gives you a complete overview of your ad monetization strategy.
Ezoic's Data Analytics dashboard gives you a granular overview of how every aspect of your website, ad strategy, and user behavior is affecting your ad revenue. You can break down revenue generated by the author, category, topic, word count, etc.
You can also generate custom reports to analyze the data along specific metrics like visits, pageviews, bounce rate, and so on. It shouldn't be too difficult to get the hang of things since the layout is very similar to Google Analytics.
However, website analytics are only available on Ezoic Leap, a completely independent platform, making it a little difficult to create a holistic picture. You will spend time organizing and understanding the data — time that could be spent on revenue-generating tasks like creating content.
Mediavine offers the bare minimum when it comes to analytics.
Mediavine does bring all your information under one roof but its dashboard is basic compared to the Ezoic platform.
It has a site health feature that lets you monitor how well your ads are optimized for your website (1). You can also view your revenue per mile (RPM) per page (2), letting you know how each piece of content is performing. You can use this information to generate new post ideas that are actually profitable.
But if you want a holistic view of your website's performance, you need to integrate your account with Google Analytics (to optimize your content) and Google's Page Speed Insights tool (to optimize your website experience).
A seasoned blogger will already have these tools set up, so syncing them shouldn't be a problem. But for a 25% profit share, I'd expect more.
Snigel offers a user-friendly dashboard, real-time updates, and customized assistance from an ad tech expert.
Snigel assigns you a dedicated expert that tracks your website and ad performance and offers valuable insights and expert suggestions for improvement.
You also get access to the AdVantage dashboard, a user-friendly interface that displays your ad performance data. This is an interactive analytics portal that provides real-time updates and tailored reports based on RPM, impressions, ad requests, and CTR, also accessible through the mobile web app.
Although AdVantage doesn't offer the same level of detail as Ezoic's analytics (like page word count), your dedicated ad tech expert has access to this information and can give you more detailed reports. This arrangement isn't a significant drawback because the expert takes care of most optimization tasks anyway, so you rarely need access to those metrics.
Winner: Ezoic. You get a holistic understanding of your ad performance using a real-time solution dedicated to measuring ad performance.
Ezoic vs Mediavine vs Snigel: Pros & Cons
| Ezoic Pros | Ezoic Cons |
| --- | --- |
| ✅ 30-day free trial | ❌ Performance-based tool access |
| ✅ Complete content monetization ecosystem | ❌ Can only use tools in the Ezoic ecosystem |
| ✅ In-depth real-time analytics | ❌ Huge learning curve |
| ✅ Multiple ad formats | ❌ Performance-based DSP and SSP access |
| ✅ Header bidding | ❌ Complex pricing structure |
| ✅ Easy integration via Cloudflare CDN | ❌ Lock-in contracts |
| | ❌ Common reports of too many ads on sites |
| Mediavine Pros | Mediavine Cons |
| --- | --- |
| ✅ Transparent revenue sharing model | ❌ Three month lock-in period when you join |
| ✅ Good customer support | ❌ Exclusivity clause in contract |
| ✅ High RPMs | ❌ Slow and niche approval process |
| ✅ Incentives for growth and loyalty | ❌ Limited control over ad placement |
| | ❌ No dedicated expert support |
Snigel Pros

Snigel Cons

✅ Header bidding
❌ Limited to sites making at least $50 USD per day or ones
with significant growth potential and high-quality content
✅ Full-service platform
❌ Selective publisher partnerships
✅ Real-time analytics and reporting
❌ Advanced analytics available only through your account manager
✅ Dedicated monetization expert
✅ No contract lock-ins
✅ Low impact on page speed and core web vitals
Final Verdict: Ezoic vs Mediavine vs Snigel
Mediavine is for niche-specific bloggers, Ezoic is for publishers looking for a complete content optimization ecosystem with a self-service approach, and Snigel is for large publishers that want to maximize their ad revenue with a customized ad strategy and setup. 
Ezoic

Mediavine

Snigel

Best for:
Growing sites and experienced publishers that want a hands-on toolset and more optimization options

Best for:
Bloggers in the food, parenting, travel, home, and lifestyle niches.

Best for:
Publishers with heavy site traffic that want a premium service with a dedicated ad tech expert to maximize their ad earnings
All three platforms are designed for ad management but for specific target audiences. Your best bet is to try all of them out and see which one works best for you. But based on our experience…
Use Ezoic if:
You are looking for a toolset that lets you optimize your ads.
You have a growing site with more than 10,000 monthly visitors.
You have the technical knowledge to set up and manage your ad stack.
Click here to get started with Ezoic!
Use Mediavine if:
You're fine with a long-term commitment.
Your blog has at least 50,000 monthly sessions.
You write in the food, parenting, travel, home, and lifestyle niches.
Click here to get started with Mediavine!
Use Snigel if:
You prefer a comprehensive monetization service, including a dedicated monetization expert who handles the work on your behalf.
You're looking for advanced ad technology, designed to maximize revenue from your ad inventory.
Your website generates at least $50 USD per day or has significant growth potential and high-quality content.