Mediavine and AdThrive are two of the most popular ad monetization companies in the market today, helping publishers monetize their content with video and display ads.
Both ad networks are designed for lifestyle bloggers in the food, home, travel, parenting, and DIY niches but their approach to increasing ad earnings is completely different. AdThrive focuses on quality over quantity by identifying ad positions that garner the most impressions to deliver highly-relevant ads to your audience. Meanwhile, Mediavine tries to create the best user experience by optimizing your website to display niche-specific ads without slowing it down.
Although they both claim to be fully-managed services, publishers still need to put in a lot of work to set up and optimize their ad strategy. Which is why I included Snigel in this comparison. Snigel provides a unique service: offering dedicated ad management experts who guide you in developing, optimizing, and managing your ad setup for maximum ad revenue. It's perfect for high-traffic publishers who need a premium ad monetization service with proprietary technology that maximizes ad earnings while ensuring fast page load speeds and a positive user experience.
In this article, I compare AdThrive vs Mediavine vs Snigel on the following criteria:
Ad Layout Technology
Publisher Experience
Analytics
Price Structure
I also touch on website performance optimization, page speed impact, and traffic requirements in the comparison table below to give you the complete picture. So, here's how they stack up!
AdThrive

MediaVine

Snigel

💰 Price

⭐⭐⭐⭐


75-25 revenue sharing model
with access to the dashboard, customer support, and learning resources. No lock-in period. Net-45 basis.

⭐⭐⭐


Revenue share model starting at 25% of monthly revenue. 90-day lock-in period. Net-65 payout. Three-month lock-in period.

🏆
⭐⭐⭐⭐⭐


Free access to ad management services

. 80/20 Revenue share model. No lock-in period. Net-30 payout.

🤖 Ad Layout Technology

⭐⭐⭐⭐


Header bidding. Uses proprietary ad code to optimize ad placement. Strict 30% ad density policy.

⭐⭐⭐


Header bidding. Focuses on improving site speed using lazy loading for ads.

🏆
⭐⭐⭐⭐⭐


Header bidding. Advanced optimization with

adaptive ads, super adhesive

, and

flying carpet.

🌞 Publisher Experience

⭐⭐⭐⭐


Self-service platform with auto-optimization option. Fully managed service only for high earners (>$250K per annum*)

⭐⭐⭐⭐


Self-service platform with a vibrant publisher community and customer support.

🏆
⭐⭐⭐⭐⭐


You get a dedicated ad expert to create, optimize and update your ad strategy on your behalf.

⚙ Website Performance

⭐⭐⭐⭐


Personalized recommendations to improve site and content performance.

⭐⭐⭐


Resources and tools to improve site load speed and create a better user experience.

🏆
⭐⭐⭐⭐⭐


Actionable insights and regularly updated ad stack curated by dedicated ad experts to comply with SEO best practices.

📊 Analytics

🏆
⭐⭐⭐⭐⭐


Dashboards breaking down your revenue with respect to traffic, page, device, ad type, date, etc.

⭐⭐⭐⭐


Simple dashboard to track ad revenue by page and website health.

⭐⭐⭐⭐


Intuitive dashboard with real-time reports. Detailed reports available with your account manager.
👮‍♀️ Traffic Requirements
100K monthly pageviews
50,000 monthly sessions
100K monthly pageviews
🏅 Best for
High-traffic sites in the food, home, parenting, and DIY niches looking for more than just ad optimization.
High-traffic content creators in the food, parenting, travel, home, and lifestyle niches.
Publishers with heavy site traffic who need a premium service to maximize their ad earnings.
Get started for free
Apply today
Contact us for the price
What is AdThrive?
"To create the best ad experience"🤩✨
In 2013, Andy Marzka was helping his wife, Kelly, grow her blog's revenue using data and analytics when they decided to start AdThrive (now Raptive) with the aim of assisting lifestyle bloggers, like Kelly, who needed a personalized, data-driven approach to improve their ad revenue, while minimizing their workload.
Note:In April 2023, AdThrive merged with CafeMedia to form Raptive. 
AdThrive has grown into a prominent ad monetization network thanks to their strong ad technology, which selectively displays high-paying, relevant ads to a website's users. Their ad code Nucleus decides which ad space will bring in the most revenue while their contextual ad targeting program Marmalade fills each space with ads relevant to the user. In doing so, they strive to deliver a superior ad experience for their users. On the other hand, publishers gain a personalized, data-driven strategy complete with a range of analytics, customization, and video management tools, all readily available on the AdThrive dashboard.
AdThrive's solutions are well-suited to lifestyle bloggers in the food, home, parenting, and DIY niches. They offer tools and advice with the goal of enhancing ad revenue through highly relevant, targeted ads.
What is Mediavine?
"For Publishers, By Publishers" 🧑‍💻↔️🧑‍💻
Mediavine was started by Eric Hochberger and Stephen Marsi in 2004 to help content creators grow their brands and businesses and become independent.
Mediavine provides ad technology developed and tested on its own websites to its group of publishers and enables them to substantially grow their ad revenue. They carefully curate vertical ad networks to provide users with highly relevant, niche-specific ads that meet the Better Ads Standards set by the Coalition for Better Ads, of which Mediavine is a member. They also offer educational resources and integrations to optimize your content for a better user experience.
In the last 20 years, Mediavine has helped content creators in the food, parenting, travel, home, and lifestyle niches maximize their ad revenue and grow their business.
What is Snigel?
"Squeeze every dollar out of your ad inventory" 💰🤏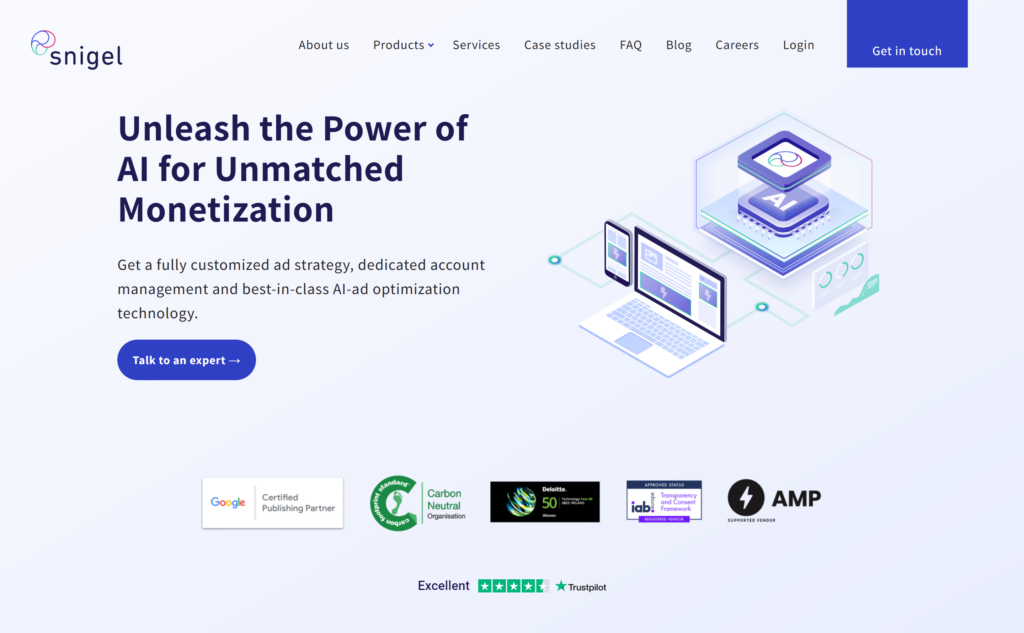 In 2012, Chris Krischnig and Peter Gallagher left their executive roles at Google and started Snigel in order to address the limitations of AdSense and build a more transparent ad tech ecosystem dedicated to helping content creators grow their businesses.
Snigel provides AI-driven monetization technology alongside a dedicated account manager who works to create a fully customized ad setup for every website. Publishers can maximize their ad revenue using two unique solutions: AdEngine (Snigel's header bidding solution) and AdStream (Snigel's native video ad solution). They can also track ad performance using AdVantage, Snigel's real-time interactive reporting dashboard, or reach out to their dedicated ad operations expert for guidance at any time. Snigel's technology and customer service set it apart in the market, earning it the moniker of Google Certified Publishing Partner, the highest qualification Google presents to any ad monetization company.
Snigel is designed for web publishers and busy content creators looking for a trusted premium service to leverage their high traffic and maximize their ad revenue so that they can focus on developing great content, growing their audience, and creating the optimal user experience.
Mediavine vs AdThrive vs Snigel: Ad Layout Technology
Mediavine focuses on optimizing your site speed, AdThrive focuses on ad density, while Snigel offers a customized solution using advanced AI algorithms for ad placement and optimization.
| AdThrive | Mediavine | Snigel |
| --- | --- | --- |
| ⭐⭐⭐⭐ | ⭐⭐⭐ | ⭐⭐⭐⭐⭐ |
All three offer header bidding capabilities but use different ad optimization techniques.
Header bidding is a modern advertising technology that allows publishers to offer their ad spaces to multiple ad providers (ad networks or exchanges) simultaneously.
Traditionally, advertisers used to bid on ad spaces one at a time. Header bidding allows advertisers to bid on the same ad space simultaneously, with the highest bidder getting to display their ads on the website. This increases the competition between advertisers, which translates into higher bids for each ad space.
Header bidding takes only milliseconds to sell ad spaces. It also provides higher ad revenue, increased transparency, and better control over your display ads.
All three – Mediavine, AdThrive, and Snigel – support header bidding capabilities. Their differences lie in the way they go about optimizing their ad layouts, which we will talk more about below.
Mediavine optimizes ad layouts to increase site speed.
Mediavine uses an automated system called Script Wrapper to find the optimal position for your ads. You can control the number of ads on your website by manually adding a snippet of code. So, adding the code three times lets the system know you want to display three ads.
To make sure the ads don't affect site speed and consequently Google rankings, Mediavine uses a method called Lazy Loading where ads only load when the user scrolls to its location on the website. It's a great way to increase your ad revenue since a good user experience means visitors stay on your website longer leading to more ad impressions.
Mediavine also recently moved from a client-to-server to a server-to-server header bidding model. Here, the bidding happens directly on the server, instead of your browser. This helps load ads faster by reducing the bidding process time.
AdThrive focuses on providing high-earning ads to maximize revenue with the least ads possible.
AdThrive offers different ad types like interstitial ads, mobile ads, native ads, and video ads to improve the revenue generated by your ad placements. The company has built two automated systems to decide which ad goes where:
It uses its proprietary ad code, Nucleus, to decide which ad space will maximize your revenue and dynamically adds them to the page.
Meanwhile, its contextual ad targeting program, Marmalade, fills each ad space with the highest-earning ads.
To ensure your website isn't crowded with ads, AdThrive follows a strict 30% ad density policy – ads should only occupy 30% of the content on any page. But, I don't know accurate this is since it excludes certain ad types (header ads, instream video ads, below post ads, and sidebar ads) when calculating ad density.
Snigel uses auto ad placement and AI ad setup optimization to maximize your RPM with adaptive ads, super adhesive ads, and flying carpet.

Apart from the commonly available ad types, Snigel offers a few advanced ad optimization options:
Adaptive ads dynamically fill your ad space with different size ads to increase ad impressions. For example, Snigel can fill a 300x600 ad space with a $1 CPM with two 300x250 ads with a $0.8 CPM. Although each ad individually has a smaller CPM, combined they provide a total CPM of $1.6 which is more than the single, large ad.
Super adhesive ads display larger ads in smaller spaces to increase the revenue earned from them. The ad moves as the user scrolls, showing the entire ad in the process.
Flying carpets are similar to super adhesive ads but are embedded within the content itself. The ad scrolls with the user, making sure the entire ad is visible.
These innovative placements work well for publishers and advertisers alike. Snigel's publishing partners have reported that their users have a better experience with these ad types, and more advertisers get the opportunity to use the ad space.
Snigel creates unique, tailored ad monetization strategies to make the most of your website's traffic and layout.
Snigel assigns ad monetization experts to provide a more personalized and custom ad management strategy for each of their publishing partners.
The expert works with you to understand your requirements, like niche, content relevance, revenue targets, traffic trends, and user experience preferences. They use this to create a custom ad strategy that guarantees your ads are not just profitable but also relevant and unobtrusive to readers.
Snigel also uses proprietary algorithms to optimize its ad stack. For example, it counters bid shading by adjusting the minimum price on an hourly basis for users by looking at the user's location, device type, and bandwidth. Like Mediavine, Snigel also utilizes Lazy Loading to maintain faster site load speeds. Besides these, it uses both client- and server-side bidding depending on their performance.
By adding a human touch to its advanced header bidding technology, Snigel has helped its publishers earn more than most of its competitors.
Winner: Snigel provides custom monetization strategies and advanced ad placement technology to help you earn higher RPMs while providing a great user experience to your readers.
Mediavine vs AdThrive vs Snigel: Pricing Structure & Services
Mediavine and AdThrive follow a 75/25 revenue sharing model, while Snigel keeps it simple with a 80/20 split.
| AdThrive | Mediavine | Snigel |
| --- | --- | --- |
| ⭐⭐⭐⭐ | ⭐⭐⭐ | ⭐⭐⭐⭐⭐ |
All three offer a revenue-sharing model. So, your decision comes down to three other important factors:
The RPM (revenue per 1000 impressions) of your ads
Their publisher selection process, and
The actual revenue share
Mediavine offers a 75/25 revenue sharing model, but you need to be ready for a long-term commitment.
Like AdThrive, Mediavine also follows a 75/25 revenue split, where the publisher takes home 75% of the monthly ad revenue. All publishers need to do is fulfill the following criteria:
50,000 sessions in the previous 30 days (per Google Analytics).
Good standing with Google AdSense.
Original, engaging, long-form content (minimum 1000-1500 words).
Publishing in a lifestyle niche, such as Food, Travel, Personal Finance, Family, Home & DIY, Arts & Entertainment, Health & Fitness, Hobbies, and Style & Fashion.
However, Mediavine is looking for a long-term commitment, and their contract terms reflect this.
They offer a loyalty bonus of 1% for each year a publisher works with them, up to a maximum of 5%. This means your revenue share can increase to a maximum of 80% in five years.
However, they have a 90-day lock-in period for new publishers, after which your contract is renewed every 30 days. They use this 90-day period to optimize your ad strategy for the maximum revenue they could bring you. If you want to leave the program, you need to submit a written notice 30 days before the extension date.
To get the most out of Mediavine, you need to be ready for a long-term commitment. But if you're looking for a higher revenue with a flexible commitment, AdThrive or Snigel may be the better option.
AdThrive offers a 75/25 split and lets you add multiple websites to your account.

AdThrive uses a 75/25 revenue-sharing model, where the publisher gets 75% of the total ad revenue. Unlike Mediavine, there are no long-term contractual commitments. To work with AdThrive, you need to fulfill the following criteria:
A minimum traffic requirement of 100,000 monthly pageviews.
Majority traffic from the US, CA, UK, AU, or NZ.
Unique original content that engages the audience and is a great fit for their advertisers.
Publishing in the food, home, parenting, and DIY niches.
You can register multiple websites if you're already a publisher with AdThrive. They will even consider sites with lower monthly pageviews as long as you're the owner and the other requirements are met.
It's worth mentioning that AdThrive offers full-service ad management only for their high-earning publishers, while the majority of customers need to be hands-on in their ad operations (more on that in the Publisher Experience section). So, they are not a truly full-service ad management company like Snigel.
Snigel offers a straightforward 80/20 split with no hidden caveats, a flexible contract, and personalized service.

Snigel offers the best deal of the three with a straight-forward 80/20 split where publishers get 80% of the total ad revenue. You are assigned an ad monetization expert who analyzes your site on a regular basis and works with you to create and optimize an ad strategy customized for your website. There are no hidden fees, and you can leave the program at any time.
However, Snigel has a few criteria that need to be fulfilled to maintain a high-quality group of advertisers and publishers:
Minimal or no bot traffic.
Daily earnings of at least $50 USD.
High-quality, original content, free from copyright issues.
At least 100k monthly page views, with over 20% from tier 1 GEOs.
Winner: Snigel because it offers a simple 80/20 revenue split, custom ad management, and advanced ad technology for a high RPM and hassle-free experience.
Mediavine vs AdThrive vs Snigel: Publisher Experience
Snigel provides experts throughout your monetization journey, AdThrive only offers personalized service to its highest earners, and Mediavine requires a hands-on approach during setup and optimization.
| AdThrive | Mediavine | Snigel |
| --- | --- | --- |
| ⭐⭐⭐⭐ | ⭐⭐⭐ | ⭐⭐⭐⭐⭐ |
Snigel offers full-service ad management to its publishers.
Snigel provides full-service ad management and an AI technology platform that manages the ad stack on your behalf. During onboarding, they provide you with an ad management expert who will analyze your current setup (content, demographic, and ad strategy) and create a customized ad stack to get the most out of your website.
Once you are set up, your account manager will continue to monitor your website and suggest improvements to your strategy. Snigel runs regular A/B tests with new ad settings, formats, and features to find the best ad strategy and setup for your website.
This is perfect if you are very busy, can't dedicate the time to set up and manage your own ad strategy, or don't have the ad tech knowledge to optimize your own ad units effectively.
Mediavine is a self-service platform.

Mediavine says they offer full-service ad management but it doesn't provide the same personalized service as Snigel. It provides all the tools and data you need to optimize your ad strategy but don't assign a dedicated ad manager to guide you. Instead, you have to contact the support team for guidance. This has both advantages and disadvantages.
The main advantage is you have control over your ad monetization strategy. You can customize your ad setup from the Mediavine dashboard, like the ad type, position, frequency, and category.
However, if you don't know how to make the most of these ad settings it can be confusing and result in missed opportunities to improve your revenue. You will also spend time learning how the tool works. But, you have access to their help center and customer support to guide you. Also, there's a very vibrant Facebook group of publishers and Mediavine staff to answer any other questions you may have. Anyways, I wouldn't say that any of the three are suited for complete beginners, simply due to their minimum traffic requirements.
AdThrive offers full-service ad management only to its highest-earning members.

AdThrive lies somewhere in between Mediavine and Snigel when it comes to their service. When you first join, AdThrive creates a custom ad layout, considering your traffic data, site design, preferences, viewability, and current ad performance. After that, you can go about developing your ad optimization strategy in one of two ways:
You can leave ad optimization to AdThrive's experts by choosing the Auto-Optimize option (1). AdThrive's team of experts will adjust your ad strategy to the recommended settings while keeping you informed of any major changes. They will also offer suggestions you can implement to optimize your ad layout and website. You always have the option to jump in and make changes to meet your own preferences.
You can manually adjust your ad preferences on the Ad Preferences tab (2). This way you will have complete control over every aspect of your ad strategy, including which categories you want to display on your site. The more categories your website can include, the more you can increase your earning potential.
Although they have an automated optimization service, you still need to make sure the changes align with your brand and content. So, it's not really a truly full-service ad management platform.
AdThrive only offers full-service ad management to its AdThrive Platinum members (now Raptive Platinum). You get access to a dedicated team if your website brings in between $250K-$499K in ad revenue per year. You also get access to exclusive advanced tools to expand your audience, revenue, and business.
Snigel integrates with YouTube, while AdThrive and Mediavine have their own video management platforms.
You need to upload your YouTube and Vimeo videos on AdThrive's platform if you want to monetize them. If you don't have any, you can embed their stock videos on your website to play ads.
AdThrive has three different media players:
The Related Player embeds videos related to the content on the page.
The Playlist Player plays videos on any post or page of your site and is not specific to the content of the page.
The Sticky Outstream Player runs video ads at the bottom of the screen.
Mediavine works similarly to AdThrive. You need to upload your YouTube and Vimeo videos to Mediavine to monetize them. You can add a CTA at the end of the video asking visitors to subscribe to your YouTube channel.
Mediavine has two video players:
Mediavine Video Player to upload and share your own videos on your website.
Universal Video Player to play short out-stream video ads if you don't have videos of your own.
You can prioritize your highest-earning videos on the platform to maximize your earnings.
Snigel's AdStream enables publishers to monetize their own videos, use stock videos for monetization, or have a popup player that just shows ads when demand from advertisers is high. AdSteam can be configured to appear in a variety of placements as per the graphic below. 
Snigel has two types of video players:
Instream player which lets you monetize your existing YouTube content by serving ads before, during, or after the video content.
Outstream player which places video ads in between your content. It automatically plays ads as long as the ad unit is visible on the user's screen. When it runs out of ads, the unit folds away out of sight. They are great for high-traffic websites and easier to set up compared to Instream units.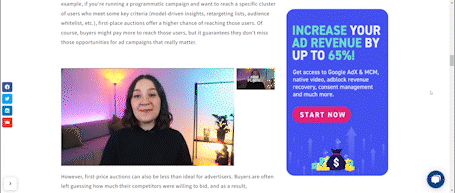 If you don't have any videos, Snigel's ad experts will help you create videos using the content that you currently have on your website or provide relevant syndicated video content.
Winner: Snigel's if you are a busy content creator who needs a fully-managed service to develop and maintain their ad monetization strategy without giving up creative control. Additionally, you can earn more with video ads using Snigel's AdStream – whether you have your own video content or not.
Mediavine vs AdThrive vs Snigel: Analytics
AdThrive provides comprehensive analytics and optimization tools, Mediavine offers only basic reports, while Snigel has an intuitive dashboard and account manager with in-depth information.

| AdThrive | Mediavine | Snigel |
| --- | --- | --- |
| ⭐⭐⭐⭐⭐ | ⭐⭐⭐⭐ | ⭐⭐⭐ |
AdThrive offers a detailed breakdown of your ad earnings.
You can view the breakdown of your earnings from the ad performance tab on the AdThrive dashboard. It's neatly broken up into different sections to make it easier to navigate, including:
Earnings shows your earnings and breaks it down by page, traffic source, device, ad unit, and so on.
Traffic uses your Google Analytics data to show you how your traffic affects your ad earnings. You can also use it to understand your audience engagement.
Site Opportunities providing personalized recommendations on how to improve your website and increase earnings.
Overall, it provides the necessary insights to help you improve your ad performance and increase your earnings. However, the AdThrive dashboard isn't updated in real-time. So, you will be working with information that's a day old.
Mediavine offers the bare minimum when it comes to analytics.
Mediavine provides a dashboard with very basic insights into your ad performance. It shows you daily, monthly, and yearly average RPMs (2) so you know how much ad revenue each piece of content is earning. You can use this information to create more post ideas around your highest-performing content.
It also has a site health feature (1) to track how your ads are affecting your website. If you want to track more specific metrics, you can link your account to your Google Analytics & PageSpeed Insights tool.
Snigel has a user-friendly dashboard that provides real-time updates and personalized support from a dedicated ad expert.
Snigel assigns a dedicated ad tech expert to track your website and ad performance. But, you also have access to AdVantage — a user-friendly dashboard that displays your ad performance data. It provides real-time updates on your RPMs, ad impressions, ad requests, and CTR. It's available as a mobile app, so you can access the data from anywhere.
Although it offers only a basic overview of your ad performance, you can always reach out to your dedicated ad tech expert for more detailed reports. This arrangement is actually even more convenient since you don't have to parse through the data since the ad tech expert is already doing this on your behalf.
Winner: Snigel's full-service management services make it easier for busy content creators to get the most out of their ad monetization strategy and time. Additionally, its AdStream service is an amazing way to make extra revenue — whether you already have video content or not.
Mediavine vs AdThrive vs Snigel: Pros & Cons
| Mediavine Pros | Mediavine Cons |
| --- | --- |
| ✅ Revenue sharing model with area for growth | ❌ 90-day lock-in period for newcomers |
| ✅ Good customer support and vibrant online community | ❌ Exclusivity clause in contract |
| ✅ Higher RPMs | ❌ Slow and selective approval process |
| ✅ Incentives for growth and loyalty | ❌ Limited control over ad placement |
| | ❌ No guarantee they will work with you |
| | ❌ Very basic analytics options |
| AdThrive Pros | AdThrive Cons |
| --- | --- |
| ✅ No lock-in period | ❌ Fully-managed service only for high earners |
| ✅ Personalized site recommendations | ❌ Increases load time to 10-12 secs |
| ✅ Detailed ad revenue breakdowns | ❌ Minimum requirement of 100K monthly visits |
| | ❌ Tough selection process |
| | ❌ Net-45 payout |
| Snigel Pros | Snigel Cons |
| --- | --- |
| ✅ AI ad optimization technology | ❌ Minimum requirement of 100k+ monthly visits |
| ✅ Full-service solution | ❌ Selective publisher selection process |
| ✅ Real-time analytics and reporting | ❌ Only account manager can provide advanced analytics data |
| ✅ Dedicated ad expert | |
| ✅ 80/20 revenue sharing model | |
| ✅ Low impact on page speed and core web vitals | |
Final Verdict: Mediavine vs AdThrive vs Snigel

Mediavine is for bloggers in niche-specific areas, AdThrive is for blogging publishers looking for high impact ad formats, while Snigel is for all large publishers who want a customized ad setup, dedicated account manager and AI ad optimization technology.


AdThrive

Mediavine

Snigel

Best for:
High-traffic sites in the food, home, parenting, and DIY niches looking for more than just ad optimization.

Best for:
High-traffic content creators with lifestyle, parenting, travel, home, and food blogs.

Best for:
Publishers with heavy traffic looking for premium full-service ad management and an ad strategy customized for their website.
All three platforms are designed for ad management but go about optimizing their ads in different ways. The best way to choose one is to try each and see which one suits your needs. But from our experience…
Use Mediavine if:
You are looking for a long-term ad management partner.
Your blog has at least 50,000 monthly sessions.
You write in the food, parenting, travel, home, and lifestyle niches.
Click here to get started with Mediavine!
Use AdThrive if:
You are looking for an ad and content optimization solution.
You have at least one high-traffic site with more than 100,000 monthly visitors.
You plan on starting more blogs in the food, home, parenting, and DIY niches.
Click here to get started with AdThrive!
Use Snigel if:
You're looking for a customized ad setup with a dedicated ad expert who will manage everything for you.
You want the latest in advanced AI ad technology to maximize revenue from your ad inventory.
Your website receives a minimum of 100k monthly page views and 20% of your traffic comes from tier 1 GEOs (US, UK, Canada, Australia, etc.).