The internet has provided new avenues of income for those who are willing to dedicate their time and efforts. One such way to make money off the internet is by becoming a content creator or publisher. According to a report on WTTW, about 50 million people around the world consider themselves content creators ⁠— whether it's making video content on YouTube or posting blogs on WordPress.
But, how exactly can you monetize your online content?
Content creators can make money through programmatic advertising solutions, such as header bidding, or advertising networks. Google AdSense is an advertising program run by one of the leading internet companies. Here, we've created a brief guide that will explain what Google AdSense is, discuss how you can create your own account, as well as give you tips on how to find success as an online content creator or publisher.
What is Google AdSense?
There are a lot of ways to make money off your website traffic, but the most popular advertising technology that can help you earn money if you are new to monetizing your traffic is Google AdSense. A high level of security and transparency, widespread usage, and a huge variety of ad formats have made Google AdSense one of the most trusted advertising platforms for smaller-scale websites. In fact, more than 38.3 million websites use Google AdSense to monetize their website traffic. Aside from adding Google AdSense to your blog or website, it can also be leveraged to earn money from posting videos on YouTube.
3 Steps to Create your Google AdSense Account
1. Check if you meet all the requirements
To make sure that your Google AdSense application doesn't get denied, you should first check if you meet all the strict requirements. These include:
Being at least 18 years old.
Having a live website that meets Google's terms of service requirements.
Having an active Gmail account.
Having ample website traffic.
Having a website that's at least three months old.
Having up to date and relevant content on your website.
All in all, Google only accepts websites that have an established web presence for their AdSense program. If you fall short in search engine optimization (SEO) best practices and have content violations, Google will deny your AdSense application.
2. Fill out the online application form
Once you've determined that you tick all of Google's boxes, you can confidently fill out the AdSense online application form. Here, you'll be asked to input your website URL and email address, as well as choose whether you want to receive Google's emails or not. While choosing not to receive these emails won't impact your AdSense application, they may contain valuable performance suggestions and tips that can help you find success on your AdSense Journey.
You will also be asked to provide this basic information:
Your phone number.
Your contact name.
Your physical mailing address.
Your business name.
Google will then verify your account through your phone number. In addition, it'll also send a PIN number to your physical mailing address to authenticate your address. Be sure to input the right information to make sure that you gain approval.
3. Link your AdSense account to your website, blog, or YouTube channel
Once you've verified your AdSense account, you're ready to link it to your website, blog, or YouTube channel. Adsense will give you a snippet of code that you can add to your website. There are also specific instructions if you choose to monetize your WordPress website instead. On YouTube, linking your account can be as simple as entering your YouTube username and password.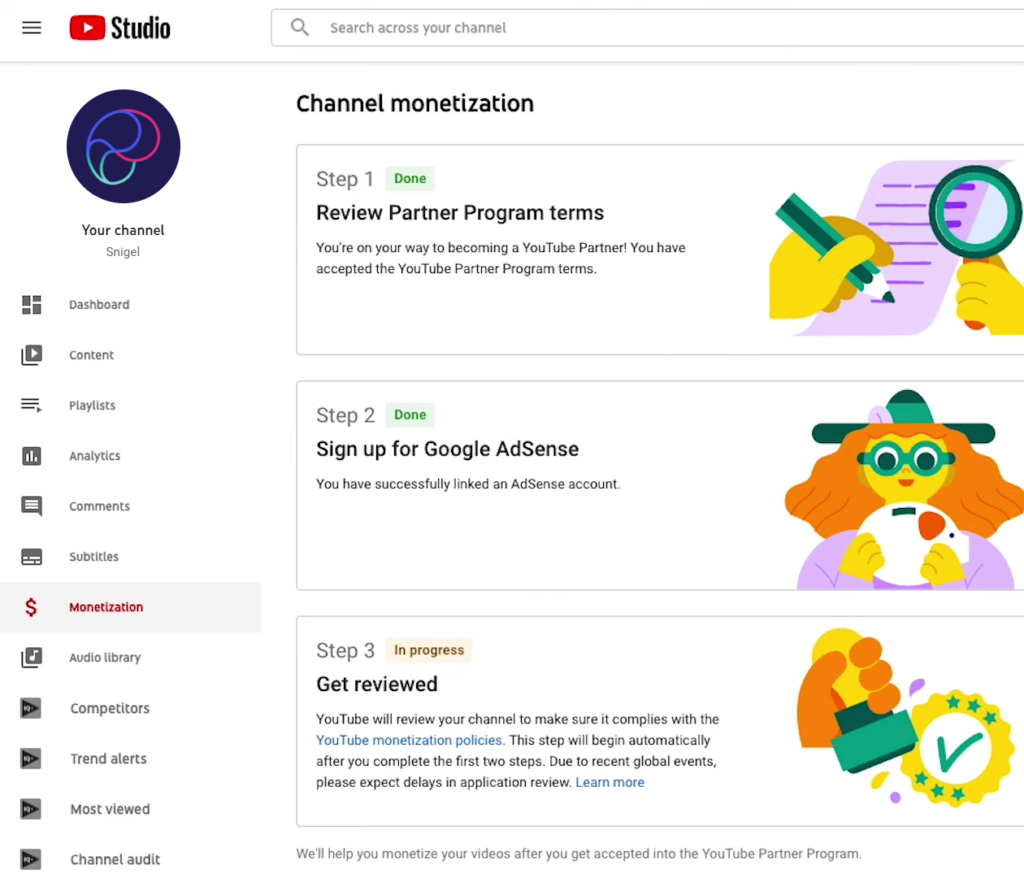 Ensuring the success of your online venture
It's one thing to create a Google AdSense account, but it's another to maintain your online venture and steer it towards success. To find success, you must do your due diligence and widen your knowledge. You can do this by reading various resources about personal marketing and SEO practices. Growth Hacker Marketing: A Primer on the Future of PR, Marketing, and Advertising is a good resource if you need tips and strategies on how to scale up your website, blog, or YouTube channel. You can also ramp up your SEO knowledge and help your website rank higher on search engines through trusted books such as The Art Of SEO: Mastering Search Engine Optimization.
You can't simply make money off the internet by signing up for an advertising program. You also have to invest time and effort in order to build content that's authoritative, credible, and has a loyal following.
If you're interested in making the most out of your Google AdSense account, read our post 'How to Avoid AdSense Deductions'.
Is Google AdSense still profitable in 2022?
AdSense is profitable for smaller independent publishers looking to focus on content creation rather than monetization. An AdSense account is easy to set up and maintain and does not require working with a third party. The platform is a stepping stone into online advertising that offers text, image, or video ads but lacks more advanced and beneficial ad formats. Our guide on how to make more money with AdSense can be helpful to learn how you could increase your ad revenue.
If you are a publisher with growing traffic, better options are available to maximize your revenue. Header bidding and native video can increase ad revenue between 20% – 70% in comparison to AdSense. See how much you could earn with either option using our AdSense revenue calculator.
It is also good to explore the best AdSense alternatives and anti-adblock solutions on the market before settling for a platform.
Contact our ad ops experts if you'd like to find out more about which option is best for your site. They will be happy to answer your questions.