Programmatic advertising refers to the automated buying and selling of digital advertising space. Whether you're a publisher or an advertiser, you'll have a variety of different platforms to choose from that all serve a different purpose in achieving programmatic advertising.
In this article, we'll cover:
If you're a publisher who's primarily interested in optimizing your ad monetization setup, you might want to check out Snigel first. Our company offers customized revenue-boosting approaches to programmatic advertising; if you're interested in learning more, get in touch today.
Programmatic Advertising and How It Works
Programmatic advertising uses software to automate the buying and selling of online advertising space. The alternative is to negotiate deals through human negotiation and written agreements. Automation makes it possible for advertisers and publishers to complete the transaction in the milliseconds it takes the webpage or app to load. In the following sections, we cover how this works and the platforms needed from both the publishers' and the advertisers' perspectives.
Programmatic Advertising Platforms for Publishers
Programmatic advertising takes place via ad exchanges. Ad exchanges are platforms where virtual auctions between publishers and advertisers take place in which ad space goes to the highest bidder.
Ad exchange: A platform for online auctions in which publishers auction off ad space to advertisers via real-time bidding (RTB).
Supply-side platforms (SSPs) help publishers automate and optimize their ad inventory to prevent unfilled ad space and boost revenue. Although SSPs and ad exchanges used to be separate programmatic ad platforms, they're now typically integrated together. Because of that, the terms "SSP" and "ad exchange" are usually used interchangeably. Pubmatic is an example of an SSP.
Supply-side Platform (SSP): Advertising technology used to optimize the selling of ad space via online auctions — often used interchangeably with ad exchange. 
While it's possible to only work with a single ad exchange, it's much more effective to request bids from multiple ad exchanges simultaneously. By connecting to more than one auction, you increase competition, which drives up the cost-per-mille (CPM). Header bidding allows you to do this.
Header bidding can be a lot to manage. In order to get the most out of connecting to multiple SSPs and implementing header bidding technology, most publishers need a full-time team of developers and ad ops specialists. That's why most publishers work with a header bidding partner like Snigel instead.
Header bidding partner: A service that handles connecting to multiple ad exchanges and the implementation of header bidding technology for publishers.
Header bidding solutions typically offer additional ad technology to help you optimize your ad set up for maximum revenue and a good user experience. Plus, by working with a header bidding partner you can access ad exchanges that you may not have otherwise been able to. Many ad exchanges have eligibility requirements that are difficult for the average publisher to meet. Snigel is an example of a header bidding solution provider.
What about Ad Networks?
Ad networks aggregate ad inventory from multiple publishers to sell to advertisers as a bundle. If ad exchanges facilitate direct transactions, then ad networks are a mediator where publishers have low visibility of who is buying their inventory. Ad networks can be useful for companies who don't have the time or resources to invest in managing their own advertising transactions. But this approach sacrifices control: Publishers don't get to decide what types of ads to display, and advertisers can't choose where their ads will appear.
Ad network: A service that aggregates ad inventory from multiple websites and sells it to advertisers as a bundle on behalf of the publishers. 
AdSense is one of the most popular ad networks. To learn more about the differences between ad networks, ad exchanges, and header bidding, read this article: Google AdX vs AdSense: Which Is Best for Your Site?
Programmatic Advertising Platforms for Advertisers
When advertisers access an ad exchange, they do so via a Demand-side Platform (DSP). In addition to giving them a place to manage and store templates and advertisements, DSPs allow them to bid on ad space. The algorithm for placing bids needs to balance the amount paid against ad performance (e.g. ad impressions and conversion rates). Which of these DSPs is the best advertising solution for your digital marketing campaign depends on a variety of factors, like the quality of its management tools and whether it offers real-time analytics. The Trade Desk is an example of a DSP.
Demand-side Platform (DSP): A platform where advertisers can access ad exchanges and manage their side of the auctions. 
Data Management Platform (DMP): A platform for storing and analyzing customer data to refine ad targeting.
Don't confuse DSPs (demand-side platforms) with DMPs (data management platforms).
DSPs are used to collect and analyze first, second, and third-party data from customers (e.g. previous purchases and demographics), allowing for audience segmentation so you can reach your target audience.
In other words, a DSP will help you sell your ads, but a DMP will inform data-driven strategies for selling your product. Lotame is an example of a DMP.
9 Best Programmatic Advertising Platforms by Category
Though we'll be looking into multiple platforms for ad management on both sides of the ad exchange, we'll be taking the first and longest dive into Snigel since that's where our expertise lies.
Jump to the category that you need:
Snigel: Header Bidding Partner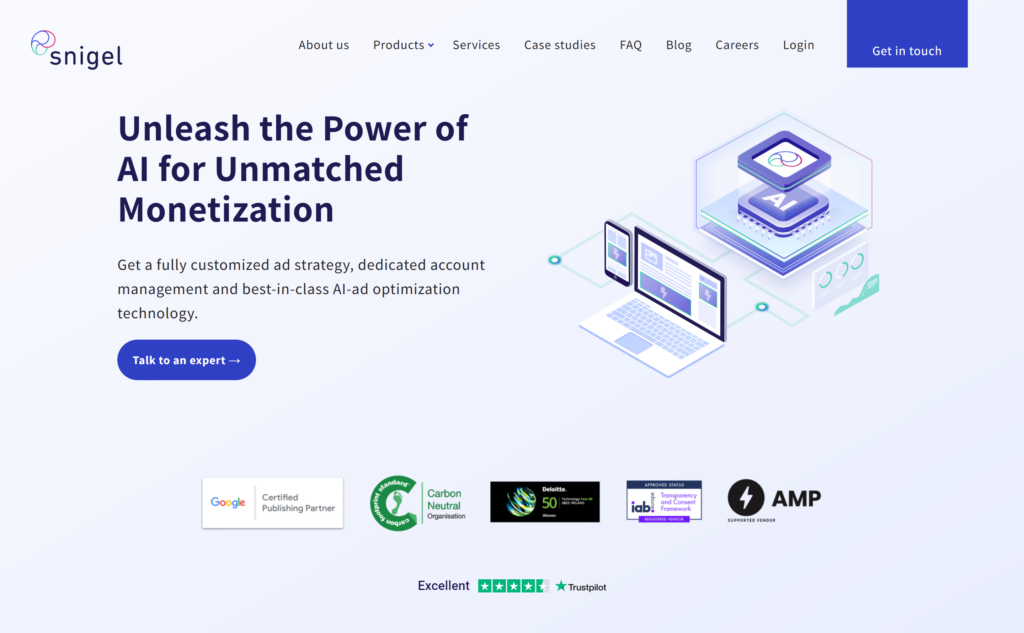 Snigel is a Google-certified Publishing Partner with 10+ years of experience helping publishers maximize their revenue from ads while also maintaining a great user experience. 200+ publishers have chosen to work with us because of our:
Return on investment. Because we customize our solutions to our publisher's needs, our clients see an average ad revenue increase of 55%+. We pay on a NET 30 basis via wire transfer, ensuring you receive your share in a timely fashion.
Level of support. During our onboarding process, we learn as much as possible about your site, business, target audience, benchmarks, expectations, and goals. With that contextual information, we create a custom plan of action to begin optimizing ad placements and your ad tech setup. Each website we work with is assigned a dedicated ad ops expert to design, test, and continuously analyze your ad strategy, retargeting as needed when circumstances change. Plus, our dev team will create custom setups, fix bugs related to your ads, boost your Core Web Vitals, and more (so that you don't have to).
Reach. Snigel connects to 40+ SSPs, including Google AdX, OpenX, Amazon Publisher Services, IndexExchange, Xandr, ConnectAd, Magnite, District M, AppNexus, and many more. We create and manage accounts with all of these so that you don't have to.
Advanced header bidding technology. Snigel's AdEngine header bidding solution is the backbone of our ad stack. It comes with next-gen ad formats like adaptive ads (which automatically adjusts the number and size of ads displayed to optimize revenue), super adhesive ads (which enables large ads to fit a small space), and interactive ad units (which increase viewability and time on page). AdEngine also comes with optimization technology including Smart Refresh (which switches out ads based on user actions like scrolling or switching pages), AI bidder optimization (which allocates bidders to client- or server-side header bidding, based on where they perform best), dynamic floor pricing (which automatically switches floor prices every hour to combat bid shading), and adblock revenue recovery (which switches between higher performing ads and adblock compliant ads based on the user's settings). Publishers will also have access to Snigel's AdStream which lets you take advantage of high-paying native video ads, while our Consent Management Platform AdConsent ensures compliance with user privacy regulations including GDPR and the CCPA. AdEngine's anti-malware ensures your site will only feature high-quality ads. Finally, the entire ad stack can be customized to fit the exact needs of your website and your goals regarding revenue and user experience.
User Experience. Our ad stack is lightweight and built for maintaining good core web vitals. Plus, since our ad tech is highly customizable, you can build an ad strategy designed with your exact target audience and website in mind. By ensuring customers are only served high-quality, relevant ads, and by protecting their privacy via AdConsent, we enhance users' experience. And our ad tech experts provide ongoing support and maintenance to ensure users continue to receive a high-quality experience.
Pricing. Snigel operates on a competitive revenue-sharing model, and you won't be locked into a contract.
If you're a publisher with high-quality content, reputable traffic, and a website generating at least $50/day, contact us to begin the onboarding process.
Ad Exchanges and Supply-Side Platforms
For a more in-depth discussion of ad exchanges and SSPs, read these articles: 
Pubmatic
PubMatic is an ad exchange that serves both publishers and advertisers. For publishers, the SSP offers a range of programmatic deal models, allowing you to select the option most beneficial to your ad revenue.
Criteo
Criteo's SSP is intended for media owners, agencies, and retailers. The resources page on its site includes consumer trends for 20 countries and 600+ product categories.
Xandr
Xandr's three main platforms for publishers are Monetize SSP, Monetize Ad Server, and Yield Analytics. The SSP manages demand for ads of all formats, including CTV.
GumGum
With resources for both advertisers and publishers, GumGum offers In-Image, In-screen units, Skins, and In-Article videos. They can accommodate integration via S2S, header bidding, popular ad servers, and hard code.
Via its header bidding solutions, Snigel includes access to 40+ SSPs, including Pubmatic, Criteo, and Xandr.
Demand-Side Platforms
Adobe Advertising Cloud
Adobe Advertising Cloud allows you to combine cross-screen and cross-channel integrations, examine how branding affects performance, optimize ad campaigns, and manage your media inventory.
AdRoll
AdRoll provides a single platform for display ads, social media ads, and email marketing to optimize your digital campaign performance. It also provides machine learning-based AI for bidding on ad space.
The Trade Desk
Media buying platform The Trade Desk's DSP impacts planning and activation, data solutions, performance, measurement, and buying models. It also allows you to advertise across every channel and device (including connected TV and mobile apps) via a marketplace of 350+ partners.
Data Management Platform
Lotame
Lotame is a user-friendly data management platform that lets advertisers take advantage of first-, second-, and third-party data. They also give advertisers access to one of the largest data marketplaces built as a cookie-less solution for advanced targeting.
If you're a publisher who'd like to take advantage of Snigel's header bidding solution AdEngine, including its lightweight ad tech and its network of 40+ SSPs like OpenX, Google AdX, and Amazon Publisher Services, contact us today.