When it comes to implementing the best ad monetization solution for maximum ad revenue, the most important factor to consider is the level of customization you'll be able to achieve. Here are just a few examples:
Apps vs. blog-style content: Rewarded ads (i.e., the user views an ad and earns a reward within the app, such as more time, special features, etc.) are a great way to increase CPMs for apps but are less suitable for blog-style content.
Desktop vs. mobile: In order to maintain a good user experience, ads typically need to be smaller, less frequent, and in lightweight formats when viewed on mobile devices vs. desktops.
User location: Some countries have faster internet connection on average than other countries, so video ads, for example, will be more effective in some GEOs over others.
Not only do you need the right ad tech to set up functionalities like these, but you also need to activate these functionalities in different contexts for the same piece of content (e.g., a different ad setup for mobile users vs. desktop users for the same page).
And yet, many ad monetization solutions don't offer the necessary ad tech or support needed for a highly customized ad set up, which means you'll be missing out on revenue.
In this guide, we discuss in detail six factors to consider when choosing the best ad monetization solution for your app or website — starting with what to look for in terms of ad tech and support. Then, we compare five ad monetization solutions for both apps and web pages, starting with an in-depth look at our custom approach at Snigel.
Snigel is a Google Certified Publishing Partner for both apps and websites. Our custom approach leads to higher CPMs and a better user experience. Get in touch for a free assessment.
Six Factors to Consider When Choosing the Right Ad Monetization Solution for Your Business
1. What ad tech will you have available?
Most ad monetization solutions will offer a few of the same basic options, such as ad units that display a new ad after the user has been on the page for a certain amount of time (ad refresh). However, you'll be able to earn more revenue if you also have access to more advanced features, such as Snigel's Smart Refresh that automatically refreshes ads that are in view after a certain amount of time or after specific user actions (e.g., switching between tabs, scrolling).
Additionally, few publishers have the technical skills to properly implement the ad tech and create the customizations that they need. So, you'll want to make sure that the ad monetization solution you choose provides advanced ad tech support to handle all of the implementation, customizations, and maintenance of your ad stack for you.
2. Will you have a dedicated ad ops specialist to create and manage your ad strategy?
Having the right ad stack and great technical support is only effective if you know the right ad strategy to implement. For example, if you want to optimize in-content ads, you'll need to decide on:
The best ad format to use (e.g., interactive ads, adaptive ads, flying carpet, or interscroller)
What kind of ad refresh to run (e.g., time- or action-based or both)
Which SSPs to connect to the ad units
How often to place ad units depending on the user's GEO or device
It takes years of experience working with many different ad layouts and target audiences to develop this kind of knowledge. That's why working with a dedicated ad ops specialist is essential for maximizing revenue.
A good ad ops specialist will create the ad strategy for you, constantly monitor and test the effectiveness of the strategy, and make ongoing suggestions for improvement.
3. Will your ad stack and ad ops specialist support a great user experience?
Maintaining a good user experience and increasing traffic over time is necessary for successful ad monetization. While this may sound obvious, many ad monetization solutions have a negative impact on the user experience because they display too many ads, display ads that aren't relevant to the user, cause slow page load speeds, etc.
You'll want to look for an ad partner with lightweight, modern ad tech who also emphasizes careful implementation of your ad tech in order to balance maximizing revenue and maintaining a great user experience.
4. What are the eligibility requirements for joining?
Nearly all ad monetization partners require that you have valid traffic (e.g., no bot traffic) and original content on your website. From there, each one will have different eligibility criteria, such as monthly traffic, content type, traffic from certain GEOs, and more.
Typically, partners with a more thorough vetting process attract higher-quality advertisers and earn higher CPMs for their publishers.
5. What fees are associated with the solution?
Most ad solutions charge you a percentage of the revenue you earn from your ad inventory. While it's tempting to simply compare these percentages to determine which one costs more, there are other factors to consider, namely:
CPMs. Oftentimes, ad partners that charge a higher revenue share return higher CPMs, which can leave you with more revenue overall. For example, a partner who takes 20% but helps you earn $1500, leaves you with $1200. Whereas a partner who takes 15% but is only able to help you earn $1000, leaves you with $850.
Tiered pricing. Some solutions offer tiered pricing based on the monthly traffic of your site. If you have a small amount of traffic, you may not have access to all of their ad tech.
6. Will you be locked into a monthly or yearly contract?
Some ad monetization partners require a monthly or yearly contract. If you try to get out of the contract early, you'll likely end up paying large fines. This makes it difficult to switch providers if you're unhappy with the service you're receiving. On the other hand, partners that let you leave at any time without fines are typically more motivated to provide a better service.
Top 5 Ad Monetization Solutions
Snigel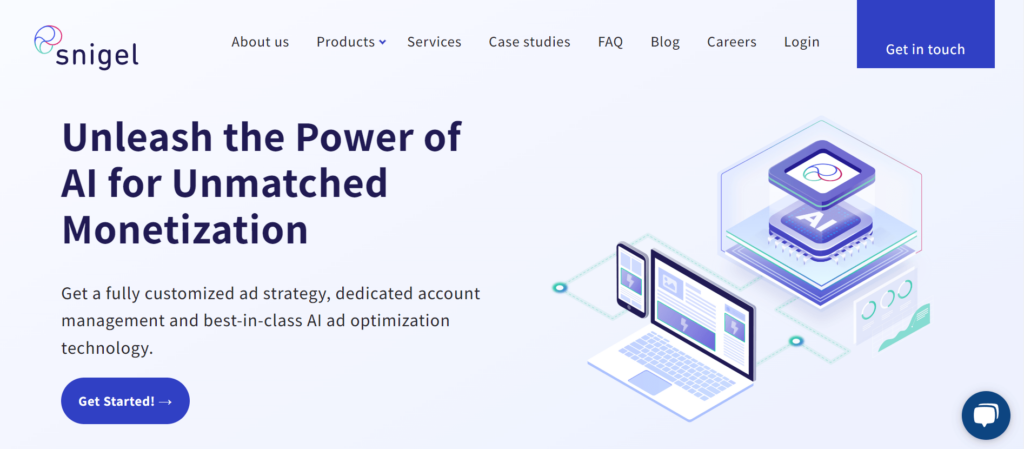 Snigel has been helping publishers increase ad revenue using customized strategies for over 10 years. Our ad stack is lightweight and was built to promote rather than harm the user experience. Plus, every ad strategy is designed with the user and the long-term growth of your site in mind.
Here are a few examples of the results publishers were able to achieve with Snigel: 
In the following sections, we show how Snigel addresses each of the factors mentioned above.
Earn Maximum Revenue with Our Lightweight, AI-powered Ad Tech
AdEngine, Snigel's AI-driven header bidding solution, includes more than just your basic ad formats and tools (although we offer those, too). With AdEngine, you get access to:
40+ of the top SSPs, including Google AdX, OpenX, Amazon Publisher Services, IndexExchange, Xandr, ConnectAd, Magnite, District M, and many more.
Next gen ad formats, including adaptive ads (which automatically switches between the number and size of ads within one ad placement based on which size and number will earn more revenue overall), super adhesive ads (which displays large ads in a smaller ad space), interactive ad units (which increases CPMs by having the user engage with the ad), and more.
Optimization features, including AI bidder optimization (which allocates bidders to client or server-side header bidding based on where they perform best), dynamic floor pricing (which automatically adjusts floor prices every hour to combat bid shading), adblock revenue recovery (which automatically switches between higher paying ads and adblock compliant ads based whether or not the user is using an adblocker), and many more.
Security features such as anti-malvertising and bot detection and blocking.
Snigel's ad stack also includes:
AdStream, Snigel's solution for displaying high-quality, native video ads on your website.
AdConsent, Snigel's Google-certified and IAB-registered consent platform so you can comply with all data privacy regulations including GDPR and CCPA.
AdVantage, Snigel's user-friendly reporting dashboard.
Most monetization solutions let you access their ad tech from a self-serve platform where you can implement and manage the ad stack on your own. Some will provide technical support, but the support will likely be limited to implementing and fixing existing features. They typically won't help you change the underlying code in order to implement a custom setup. This is an issue because most publishers don't have the technical skills to build the necessary customizations on their own. And, as we've mentioned multiple times, without the ability to customize your ad stack, you'll be missing out on revenue.
Snigel's ad tech specialists will implement, customize, and maintain your ad stack for you. Plus, we're constantly on the lookout for bugs and other issues and will fix them as soon as we find them.
Optimize Your Ad Strategy with Our Dedicated Ad Ops Specialists
Most ad monetization solutions only provide the limited tech support discussed above. Very few solutions offer ad strategy support. And, even if they do, they typically only apply the same cookie-cutter strategies to every website.
With Snigel, you'll get a dedicated ad ops specialist who will create, implement, and maintain a customized monetization strategy based on the specific needs of your website. While we have tried-and-true methods based on years of experience, we're also constantly updating our approach with new innovations and ways to improve your ad strategy.
Simple Revenue Share Model
Snigel operates on a simple 20% revenue share model. All of our publishers are given the same service and attention regardless of size. Plus, you won't be locked into a contract.
Join Snigel
Snigel works with publishers producing original, high-quality content. Because we take a customized approach to every website, we can help publishers in any vertical, including technology, education, utilities (e.g. calculators, convertors), music, travel, gaming, forum, reference-style websites (e.g., dictionaries, weather reporting), and more. We support apps, websites, and content on mobile or desktop.
Try Snigel out on just 5–10% of your traffic risk-free. Get in touch for a free assessment.
Google: AdX, AdSense, and AdMob
Google provides three different ad monetization solutions:
AdMob, which is Google's solution for mobile app monetization
AdX gives publishers access to premium ads that aren't available with AdSense. However, small publishers usually find that it's quite difficult (or impossible) to gain access to AdX without a Google Certified Publishing Partner like Snigel.
AdSense is often better suited for smaller publishers and websites with large amounts of traffic from Tier 3 GEOs.
Learn more about the differences between Google AdX and Google AdSense. 
Note: With Snigel, publishers can access the benefits of both AdX and AdMob. Plus, Snigel consistently outperforms AdSense when it comes to earning high CPMs.
InMobi
InMobi is an India-based technology company with a mobile-first ad monetization platform for games and mobile apps. You can monetize your app through direct deals or programmatic advertising.
Other features offered by InMobi include:
An identity management solution designed for app developers
Advertising formats such as video, native, playable, rich media, carousel, and interstitial
Software development kits (SDKs) for both Android and iOS
Media.net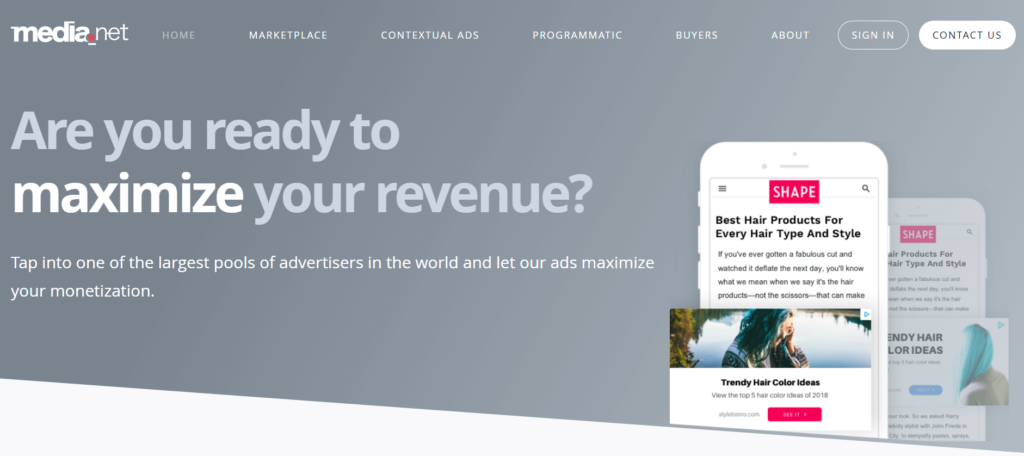 Media.net by Yahoo! Bing has three main products: marketplace, contextual ads, and programmatic advertising. For the purposes of this list, we'll focus on programmatic advertising.
To work with Media.net, websites typically need to have 10K pageviews, however, they'll consider smaller sites as well. With one tag, you can run contextual ads, display ads, and native ads. They also offer a real-time bidding reporting dashboard.
They offer 24/7 support for managing third-party integrations and for fixing issues with existing functionalities (not with creating new ones).
AppLovin MAX
AppLovin MAX is an app monetization platform. (They also offer an advertising platform where advertisers can create ad campaigns specifically for in-app advertising and mobile advertising.) They boast of:
25+ SDK networks
20+ in-app bidders (including AppLovin demand sources)
100+ advertisers bidding through AppLovin's exchange platform
Custom campaigns
They offer the typical ad formats, including interstitial ads, banner ads, native ads, etc. And, they offer a reporting suite to help you manage your ad strategy.
Snigel provides website owners with AI ad optimization technology and dedicated ad management experts who create, implement, and manage a fully customized ad stack and strategy for you. In addition to maximizing revenue, Snigel helps you deliver fast page load and positive user experiences. To see how we can help grow your ad revenue, get in touch.