There are 5 key considerations when choosing the highest paying ad network for your business:
Customized monetization strategy vs. cookie cutter solutions — While most ad monetization partners will you give you some say over how many ads appear on your site and where, there's a lot more that goes into truly maximizing your revenue — optimizing floor prices, sharing traffic information with advertisers, adblock revenue recovery, maintaining good Core Web Vitals, and much more. If you want to get the most revenue from your content, then you need to look for an ad network that supports a highly customized ad strategy.
Vertical expertise — Many ad networks will offer support to any website that wants to monetize traffic through ads (assuming you meet traffic and website quality requirements). Then, they use the same strategies for all types of websites. This is an issue because different ad monetization strategies and ad technology work well for different industries and types of websites. For example, long blog posts often see better performance if ads are introduced after the opening section, whereas short, reference style posts need ads to appear quite quickly at the top of the webpage for readers to actually see the ad. Additionally, the ad technology they use, the relationships they've built with advertisers in specific industries, and more will all play a role in how easily an ad network can get high paying, high quality ads for a specific type of website. So, you'll want to look for an ad network that specializes in your vertical.
Payment terms — Most ad networks operate on a revenue share model where they get 15-30% of total ad revenue. This should include all services: ad serving fees, account management, tech updates, real-time reporting, anti-malvertising, and more. Look for any additional or hidden fees when comparing costs.
Lock-in clauses — Some ad networks will lock you into a year long contract (or more) and charge a hefty fee if you decide to leave. If they aren't meeting your revenue expectations or underperform in any way, you'll have difficulty switching to a new provider who could truly help you increase ad revenue.
High-quality partner websites — Header bidding companies that only work with high-quality partner websites typically have a higher Google score. The higher the ad network's Google score, the more attractive your ad inventory is to advertisers, which means better prices for your ad inventory.
Keeping these considerations in mind, in this article, we compare 9 of the best ad networks available.
However, before diving in, it's important to note that there are a wide range of partners and ad tech solutions that are all referred to as 'ad networks'. For example, Google AdX is a platform where publishers can auction off their ad inventory to advertisers. On the other hand, Snigel (our company) is a header bidding partner that lets publishers auction their inventory through multiple demand sources simultaneously including Google AdX, Amazon TAM, and Index Exchange. While these services are very different in nature, both are often casually referred to as an 'ad network'.
So, we cover a variety of companies that have all been referred to as 'ad networks', and we highlight the differences between solutions so you can choose the right one for your needs. We start with an in-depth look at our own ad monetization solution, Snigel, since that's where our expertise lies.
Snigel is a Google Certified Publishing Partner that provides website owners with AI ad optimization technology and dedicated ad management experts who create, implement, and manage a fully customized ad stack and strategy for you. In addition to maximizing revenue, Snigel helps you deliver fast page load and positive user experiences. To see how we can help grow your ad revenue, get in touch. 
Snigel: Customized AI Ad Stack and Strategy for Maximum Revenue, Fast Page Load, and a Positive User Experience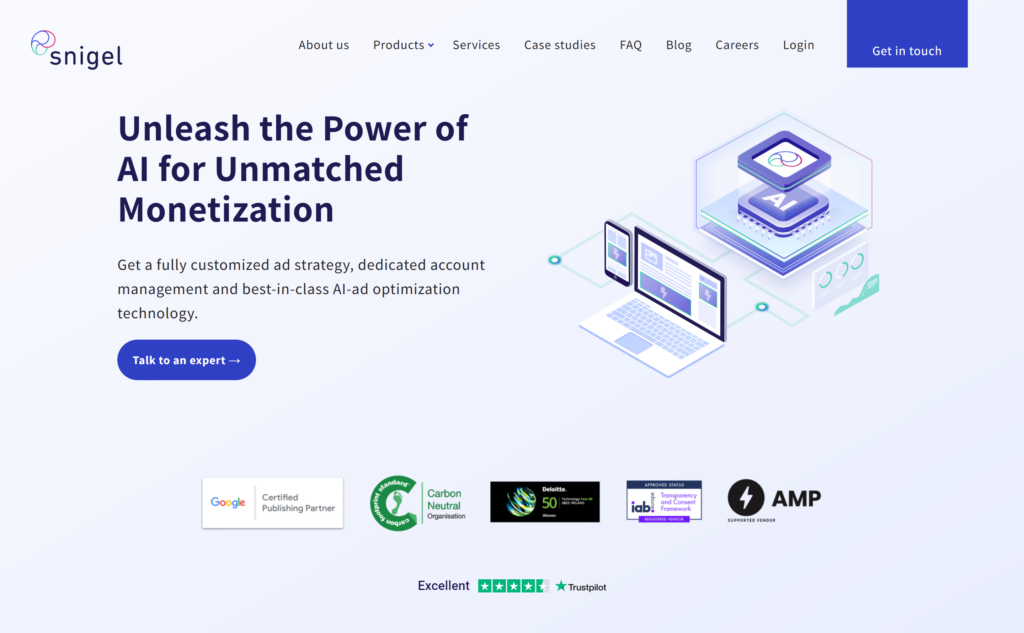 Snigel is a full service header bidding partner that provides you with:
A dedicated ad management expert who creates, implements, and manages a fully customized ad setup and strategy based on your requirements.
An advanced, AI-powered ad tech stack designed to maximize revenue from your ad inventory.
Together, Snigel's hands-on ad strategy and proprietary technology let you maximize ad revenue while maintaining fast page load speed and a positive user experience.
Snigel is for large publishers making at least $50 USD per day. We partner with publishers in any niche including Technology, Education, Music, Travel, Forum, reference style websites (e.g., dictionaries, weather reporting) and many more.
Without any registration fees or lock-in contracts, you can easily test Snigel on just 10% of your traffic to see how we can help you grow your ad revenue. 
Image source
Custom Ad Stack with Ongoing, Hands-on Updates
There are many strategies and types of ad technology that can be used to increase the revenue from your ad inventory, for example:
Page layout optimization.
AI price floor thresholds.
Using an ad blocker recovery tool.
Using different types of ads (e.g., interactive ad units, interstitial, video).
Enriching your ad inventory with 3rd party data to make it more attractive to advertisers.
And many more.
However, most ad partners only focus on a handful of strategies for all clients (e.g., how many ads to include on a page, where to position them, types of ads to use).
Additionally, most ad partners use a 'set it and forget it' approach where they help you set up a standard cookie cutter ad template which is applied to the whole site irrespective of the UI and then become unresponsive. If you want to change how the ad technology is handling your ad strategy (e.g, show fewer ads, adjust the ad sizes), you'll have to wait for their team to respond (which can take days or weeks) or handle it yourself. Some will provide you with a customer portal where you can make changes on your own, but very few publishers have the necessary technical skills or expertise to build a truly effective ad strategy on their own.
If your ad stack and customization options are limited, you'll miss out on revenue.
With Snigel, you'll have:
A full ad tech stack that is continuously updated to ensure your website is ready for revenue growth.
Ad monetization experts who develop, manage, and proactively update your ad strategy on an ongoing basis to meet your requirements and ensure you have access to the latest adtech solutions.
Proprietary Ad Technology
Snigel's AdEngine (our header bidding stack) is lightning-fast and is connected to all major advertising platforms including Google AdX, Google Open Bidding, OpenX, Amazon Publisher Services, Index Exchange, and more. This helps ensure your ad inventory is available to the highest bidders with the highest quality ads.
Snigel's proprietary ad stack includes some of the most advanced ad optimization technology:
AI bidder optimization (which can increase revenue by 7+%): This allows you to take advantage of both client- and server-side header bidding in addition to matching users with the best bidders for their country, device, and browser. The result is faster load speed and more revenue.
Adaptive ads (which can increase revenue by 10-30%): Snigel's AI will fill designated ad spaces with whatever size ads produce the highest revenue (e.g., one ad for $1.60 vs. two smaller ads for $0.90 each).
Super adhesive (which can increase revenue by 20+%): This lets you display larger ads in smaller spaces by having the ad move along with the user's scrolling. Since larger ads typically give higher CPMs, this is a great way to boost your revenue.
Dynamic floor pricing (which can increase revenue by 5+%):  Snigel's AI automatically adjusts floor prices every hour to combat bid shading, which means you get higher CPMs and have less unfilled ad inventory.
Interactive ad units (which can increase revenue by 3+%): These ads engage the user by inviting them to fill out a poll, take a short quiz, or click through the ad to learn facts, tips, etc. The visibility on interactive ads tends to be much higher, which means a higher CPM for you.
Smart Refresh (which can increase revenue by 6+%): This technology allows you to display multiple ads, one after the other, in a single ad spot for as long as the user stays on the page. If a user leaves the page open but switches to a new tab, Smart Refresh will display a new ad when they return.
Adblock recovery (which can increase revenue by 10+%): Snigel's adblock recovery tool automatically switches between high paying ad formats and adblock compliant ads depending on the user's settings so that you always get some revenue from your traffic.
AdConsent (which can increase revenue by 1-2%): Our IAB-registered consent platform allows the user to decide what level of ad targeting they're comfortable with. Not only does this let you easily comply with GDPR and CCPA regulations, but it also makes your ad inventory more attractive to SSPs and advertisers.
AdStream (which can increase revenue by 23%): Native video ads can be a great way to boost ad revenue and AdStream lets you display high-quality video on your website in a variety of formats.
Dedicated Ad Monetization and Tech Experts
Many ad networks will provide responsive customer support during the initial set up phase but then become unresponsive as time goes on. Other ad networks will assign you an account manager who is often more interested in trying to upsell you on new products instead of finding the best solutions for your website long-term.
Snigel provides you with a dedicated ad tech expert who develops a custom ad stack based on your requirements and prioritizes the long-term growth of your website. Then, they manage, optimize, and update your ad strategy on a regular basis. Your ad monetization expert remains actively engaged with your website to the point where they're simply an extension of your team. 
Your dedicated ad expert will be available to answer any questions you have. And, you can easily view net CPM, total impressions, CTR, clicks, net revenue and more at any time in AdVantage (Snigel's reporting dashboard).
Most ad management partners focus entirely on ad placement and ad type and pay less attention to how those ads affect the performance of your website. However, Google prefers to send users to sites with a good user experience. So, improving your Core Web Vitals (i.e., page load speed, page response time, visual stability) can increase your SERP rank, which in turn, increases traffic and ad revenue.
At Snigel, supporting good Core Web Vitals is built into our technology and overall approach to ad monetization. When introducing new ad strategies or ad tech, our ad tech experts run A/B tests for both ad performance and overall website performance. Then, they implement the most effective ad strategy and help you make any necessary changes on the backend of your website.
Image source
Case Studies
On average, websites that partner with Snigel see an increase of 57% in revenue. 
Here are a few case studies to demonstrate how Snigel helps publishers grow ad revenue:
30% Increase in Revenue for Windfinder
Windfinder (a wind and weather forecast website) was already optimized for ad placement and ad units, but they wanted to increase ad monetization. Additionally, they didn't want video ads, ad refresh, or more ad units. Snigel implemented AI bidder optimization, ad filtering, and 24/hours support to meet their goals, which resulted in a 30% increase in ad revenue.
Read the full Windfinder case study here.
104% Revenue Increase and 35% Boost in Ad Impressions for MakeTechEasier.com
MakeTechEasier.com (a site for computer tutorials, how-to's, and hacks) was using video as their main source of content. They wanted to monetize video traffic without compromising their YouTube channel. Snigel implemented a lightweight video player that delivered pre- and mid-roll ads to users, which resulted in 104% increase in ad revenue and 35% increase in ad impressions.
Read the full MakeTechEasier.com case study here.  
Cost and Payouts
Snigel uses a competitive revenue share model that makes it easy and affordable for you to join.   Plus, you won't be locked into a contract.
There are no hidden fees — everything from our consultant services to our proprietary technology is included in the revenue share.
You will receive your earnings on a NET 30 basis (i.e., your earnings will be paid out 30 days after the month's end) via bank wire transfer.
To see how Snigel can help you squeeze every dollar out of your ad inventory, get in touch with our team. 
Google AdSense: Ad Monetization by CTR
Google AdSense lets publishers monetize their content through ads by installing a snippet of code on their site and selecting the places where they want ads to appear. So, it's quite easy to use, even without technical skills. However, the options for customization are very limited.
Whereas Snigel connects your website to 40+ demand partners (i.e., ad auction platforms) Google AdSense only connects to the Google demand platform which significantly decreases revenue potential. However, Google AdSense can be a good option for websites that have higher CTR than CPM, haven't met the minimum traffic requirements of other ad networks, or primarily serve tier 3 Geos.
Learn more about the differences between Snigel vs. AdSense here.
Google AdX: Premium Ad Campaigns for High Revenue
Google AdX (accessed through Google Ad Manager) is an ad exchange platform where ad inventory is bought and sold via online auctions.
Google AdX provides publishers with premium ad campaigns that aren't available anywhere else, so it's a highly sought after ad auction platform. However, like AdSense, you're limited to just the advertisers working with Google (i.e., it's not a header bidding platform). It can be difficult to get direct access to Google AdX because they have strict requirements. Additionally, very few publishers have the resources to manage a direct access account. For most publishers, it's much easier and more effective to work with an established Google AdX partner, like Snigel.
Learn more about the difference between Google AdX vs Google AdSense here.
RevContent: Native Advertising for Publishers and Advertisers
RevContent works with both publishers and advertisers to implement native advertising.
Publishers can display native ads using RevContents lightweight and flexible ad widgets. They don't have a minimum traffic requirement, however, your website will have to go through a quality check before joining.
RevContent operates on month-to-month contracts with a revenue share model making it easy for publishers to join and leave as needed.
Infolinks: Self-Serve Header Bidding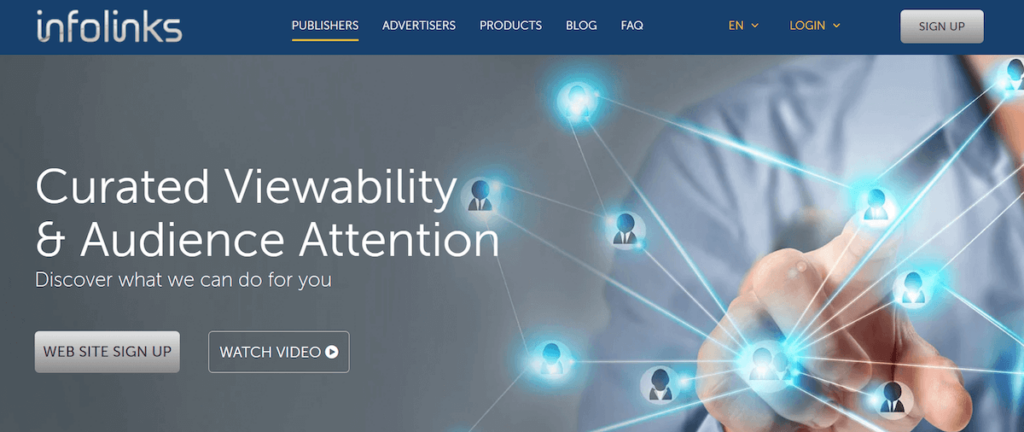 Infolinks is an advertising network that supports both publishers and advertisers.
They specialize in using contextual targeting to curate ads for individual users. These ads come in various ad formats including in-text, in-fold, in-tag, in-frame, and graphic banner ads. Infolinks is CPC based — meaning you get paid for clicks not views.
Their payment methods for payouts include PayPal, eCheck, and ACH (however, there are minimum payment thresholds for each one).
Adsterra: Self-Serve Platform with 24/7 Support Line
Adsterra helps publishers boost eCPM for both desktop and mobile ads. In addition to monetizing website content, they also work with social marketers and affiliate marketers who know how to monetize your social media presence.
They offer a self-serve platform full of automated tools and a 24/7 online support chat so that you can manage your ad stack and ad strategy independently. Adsterra ad formats include popunder, banners, social bar, Direct Link and VAST video.
Finally, they boast a 100% fill rate and a minimum payout rate of $5.
Media.net: Server-Side Header Bidding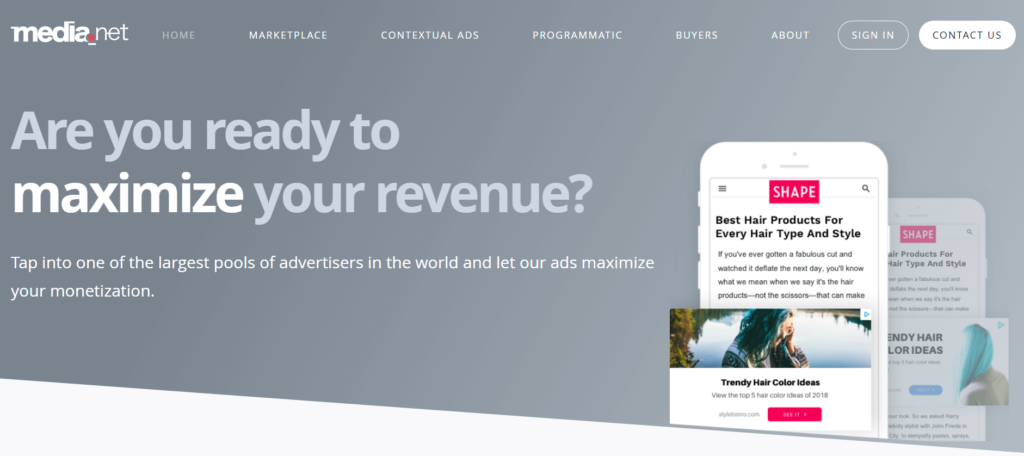 Media.net gives publishers access to search demand served by the Yahoo! Bing network. The programmatic side of their platform gives you access to server-side header bidding. With one tag, you can run contextual ads, display ads, and native ads. Media.net supports desktop and mobile app ad monetization.
Media.net provides a 24/7 support team to help you integrate with third party partners and fix issues with your ad stack.
Finally, they provide a reporting dashboard where you can view metrics surrounding revenue, CPM rates, real-time bidding and more.
Amazon Publisher Services: Header Bidding Cloud Services
Amazon Publisher Services (APS) offers a suite of cloud-based advertising technologies in three parts: Transparent Ad Marketplace (TAM), Unified Ad Marketplace (UAM), and Connections Marketplace.
With these solutions, you can take advantage of header bidding and connect to third-party ad tech solutions. (Note: Snigel also gives you access to Amazon TAM.)
APS is suitable for both large companies with high traffic (via TAM) and mid-sized companies (via UAM).
Ezoic: Page Layout Optimization via AI
Ezoic is a header bidding solution for bloggers and anyone looking to monetize pageviews through ads.
With Ezoic, you can choose to handle your ad strategy yourself or let their AI choose the right ad placement and ad type for you (they strongly encourage the latter). Because of this, they take a more hands-off approach to your ad strategy. If you choose to let AI take over, there's little room for changing how their AI decides to display ads on your website. However, you will still have some say over basic elements such as the number of ads on your site.
Ezoic offers a DIY solution for small websites that doesn't have a minimum traffic threshold. If you do have over 10,000 pageviews/month, you can choose between their standard or premium packages. The premium package requires a one year lock-in contract with hefty fees to leave before the contract expires.
Snigel helps you maximize revenue from your ad inventory with highly customized ad strategies and advanced ad technology. Plus, Snigel helps you maintain fast page load and positive user experiences. To see how we can help grow your ad revenue, get in touch.