Many publishers look for an Ezoic alternative because they want higher returns on ad revenue, a better user experience, more attentive support, faster load times, and more.
One of the main disadvantages of Ezoic is that it's a self-serve platform. Few website owners have the ad expertise, technical skills, or time to properly set up their ad strategy to truly maximize revenue. While Ezoic does offer artificial intelligence (AI) and various automation tools to handle many aspects of your ad strategy for you, many publishers report that these features are difficult to set up, slow down their site, place too many ads on each page, and negatively affect the user experience.
Snigel, our ad monetization solution, overcomes Ezoic's main disadvantages by providing you with a dedicated ad management expert who creates, implements, and manages a fully customized AI-powered ad stack and ad strategy for you. 
In this guide, we compare 11 of the best Ezoic alternatives, starting with an in-depth look at Snigel.
To see how Snigel can help you squeeze every dollar out of your ad inventory, get in touch with our team. 
1. Snigel
Full-Service, Customized Ad Monetization Strategy for High CPM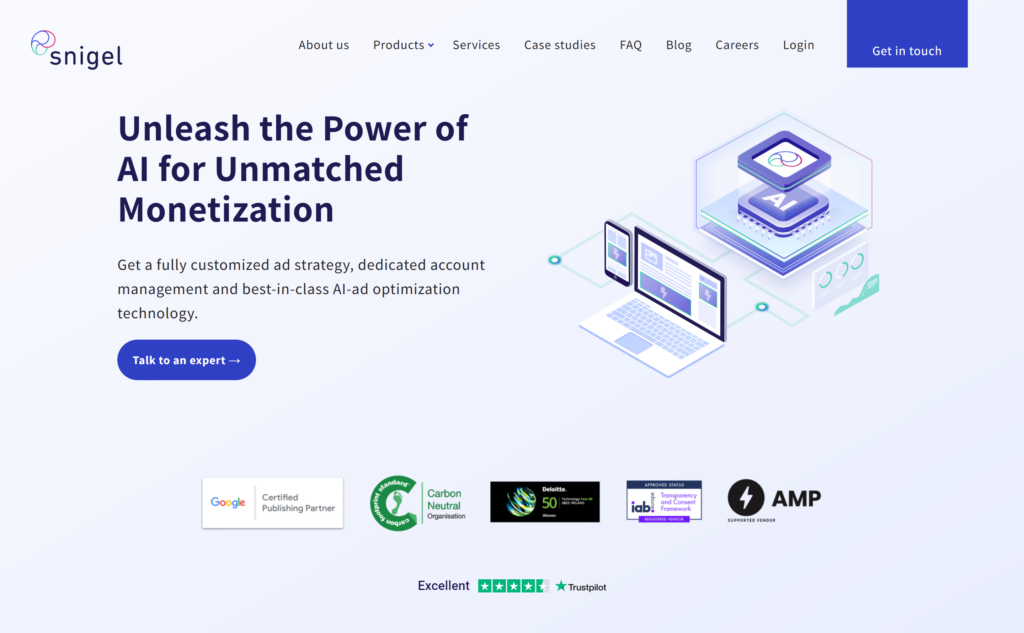 Snigel is a header bidding partner with advanced AI ad optimization tech and full-service ad management. Because a dedicated ad management expert will create, implement, and manage your ad strategy for you (based on your requirements), you won't have to become an ad monetization expert or spend hours handling it yourself. Not only will we help you maximize revenue from your ad inventory, but we also help you maintain fast page load speed and a great user experience.
Snigel's AdEngine (our data-driven header bidding solution) is connected to all major demand partners and SSPs including Google AdX, Index Exchange, OpenX, Rubicon, District M, and many more.
Snigel works with large publishers producing original, high quality content and making at least $50 USD per day. We support websites in any niche including technology, education, music, travel, forum, reference-style websites (e.g., dictionaries, weather reporting), and many more.
You can start for free and won't be locked into a yearly or monthly contract. Easily test Snigel on 10% of your traffic to see how we can help you grow your ad revenue.
How We Get The Most Out Of Your Ad Revenue
When it comes to maximizing the revenue from your ad inventory, there are several strategic decisions that need to be made. For example:
Should you place ads at the top of your content or wait until the reader gets past the intro?
What's the best way to combat bid shading (i.e., technology that allows advertisers to pay the lowest amount possible for ad space)?
How do you make ad inventory more attractive to advertisers so that they're willing to pay more?
What number of ads is the right balance between maximizing revenue from pageviews vs. causing a negative user experience that lowers traffic?
What types of ads are appropriate for your audience?
When is it appropriate to refresh ad space and how long should the interval be between refreshes?
These questions only scratch the surface of all the factors that need to be considered in order to maximize ad revenue. And, these questions need to be answered on a case by case basis. What works for one website may not be the best option for another website.
For example, our client Radiopedia.org needed to limit the number of ads per page in order to satisfy their target audience and yet they wanted to increase revenue from ads. By implementing video ads, introducing PMP deals, connecting to niche demand partners, and more, Snigel was able to help them increase revenue while decreasing the number of ads.
On the other hand, our client Windfinder wanted to stay away from video ads and didn't want to add any more ad units. With AI bidder optimization, custom filtering and our server-to-server header bidding solution, they were able to increase revenue by 30%.
And yet, most ad monetization partners push the same cookie cutter strategy on all websites. If you don't want to follow a specific aspect of the standard strategy they provide (e.g., you want fewer ads per page), they will likely tell you that you'll miss out on revenue rather than help you earn that revenue in other ways.
With Snigel, every client is assigned a dedicated ad management expert who creates a custom ad strategy based on the requirements of your website and target audience. Then, they implement and manage that strategy for you.
Your custom ad strategy will be supported by Snigel's AI ad optimization technology, including:
AI bidder optimization allows for faster ad load by taking advantage of both client- and server-side header bidding. Clients see up to 7% more revenue on average with AI bidder optimization.
Adaptive ads that use automation to fill designated ad space with whatever size ads produce the highest revenue (e.g., one ad for $1.50 vs. two smaller ads for $0.95 each). Clients see up to 10-30% more revenue on average with adaptive ads.
Super adhesive lets you display large ads in small spaces by having the ad move along with the user's scrolling. Since larger ads typically give higher CPMs, this is a great way to boost your revenue. Clients see up to 20% more revenue on average with super adhesive.
Dynamic floor pricing uses AI to automatically adjust floor prices every hour to combat bid shading, which means you get higher CPMs and have less unfilled ad inventory. Clients see up to 5+% more revenue on average with dynamic floor pricing.
Interactive ad units engage the user by inviting them to fill out a poll, take a short quiz, or click through the ad to learn facts, tips, etc. This can increase CPM because the visibility on interactive ads tends to be much higher than static ads. Clients see up to 3+% more revenue on average with interactive ad units.
Smart refresh allows you to display multiple ads, one after the other, in a single ad spot for as long as the user stays on the page. Smart refresh can track when a user has opened a new tab and is switching between other tabs and your website. Each time the user returns to your website, smart refresh will display a new ad. Clients see up to 6+% more revenue on average with smart refresh.
Adblock revenue recovery automatically switches between high paying ad formats and adblock compliant ads based on the user's settings which means you'll always get some revenue from traffic. Clients see up to 10+% more revenue on average with Adblock revenue recovery.
AdConsent is our IAB-registered consent platform that allows the user to decide what level of ad targeting they're comfortable with. Not only does this let you easily comply with GDPR and CCPA regulations, but it also makes your ad inventory more attractive to SSPs and advertisers. Clients see up to 1-2% more revenue on average with AdConsent.
AdStream lets you display high-quality native video ads on your website without slowing down page performance. Clients see up to 23% more revenue on average with AdStream.
Further reading: The Highest Paying Ad Networks: In-Depth Guide
How We Support Your Core Web Vitals
More often than not, when you're given an account manager, they're mostly just interested in trying to sell you new products — with little consideration for how those products will affect the overall growth of your site.
For example, Google's search algorithm prefers to send traffic to sites with a good user experience (i.e., websites with good Core Web Vitals). And yet, many account managers will try to sell you products with negative effects such as:
Slow page load times.
Ads loading before content.
Cumulative layout shift (CLS), i.e., when the content shifts down a few seconds after loading to make room for ads.
An overwhelming amount of ads.
Intrusive ads that block content.
And much more.
At Snigel, maintaining good site performance and user experiences is built into our AI ad optimization technology and every ad strategy.
An ad tech expert will help you improve and maintain your Core Web Vitals:
How We Report on the Results of Your Ad Strategy
Snigel provides a user friendly dashboard where you can view:
Estimated net revenue.
Net revenue.
Ad impressions.
Estimated Net AI CPM.
Clicks.
Click through rate (CTR).
And more…
These metrics can be viewed:
For the current month or for the past 30 days.
As raw numbers or in a graph.
In the dashboard or as a PDF, spreadsheet, etc.
Your ad management expert will be in constant communication with you about the latest adjustments and results of your ad strategy. You can also reach out at any time and your ad expert will respond within 24 business hours (although they typically respond much quicker).
Snigel Customer Reviews
Snigel has 4.7 out of five stars on Trustpilot (a popular site for customer reviews).
Here's what some of our customers have to say:
Snigel offers a full-service ad monetization package complete with advanced AI ad optimization technology and a dedicated ad management expert who creates, implements, and manages a custom ad strategy for you. To see how we can help grow your ad revenue, get in touch. 
2. Mediavine
Mediavine is an ad management partner for lifestyle bloggers getting 50,000+ sessions/month. They specialize in programmatic advertising for the typical long-form style blog along with influencer marketing. Mediavine uses a revenue share model where your share will increase as the total number of ad impressions increases.
Pros
Ad tech and optional plugins that prioritize SEO
Dynamic ad placement
User-friendly dashboard
Round the clock support team
Facebook community group
Works with niche-specific ad networks
Cons
Less suitable for websites with a majority of short pieces of content
Less suitable for websites outside of the lifestyle blog circle
Three month lock-in
Self-serve platform
Mediavine doesn't have any reviews on Trustpilot or G2.
3. Google AdSense
Google AdSense lets publishers with monthly traffic monetize their content through ads. Publishers simply install a snippet of code on their site and select where they want ads to appear and AdSense fills those spots with ads. With AdSense, publishers can get paid per click or per impression.
Pros
High performance for tier 3 GEOs
Set up is easy for non-technical publishers
Low minimum payout
No minimum pageviews required
Cons
Publishers can only make their ad inventory available to advertisers using Google's demand platform (i.e., AdSense doesn't offer header bidding).
Revenue will likely be low in tier 1 GEOs.
You can read customer reviews for AdSense on G2 here.
Learn more about the differences between Snigel vs. AdSense here. 
4. MonetizeMore
MonetizeMore's primary offering is their AI powered header bidding wrapper. They install their ad technology on your server which gives you more control. And, they offer four different packages to accommodate different needs and levels of monthly revenue.
Pros
AI powered header bidding wrapper
No lock-in contract
24/7 support
Invalid traffic protection feature
Cons
Self-serve platform with email customer support only
Some features, such as user consent management, are only offered in their highest tiers
You can read customer reviews for MonetizeMore on Trustpilot here.
5. AdPushup
AdPushup is an ad management platform for Google AdSense publishers, independent publishers, and enterprise media companies. They give you the option to set up and test new ad layouts or have their AdOps team do it for you. AdPushup is implemented using a JS-based integration rather than having publishers hand over DNS ownership.
Pros
Point-and-click ad layout creator
Acceptable Ad standard ad tool
A/B testing tool
Native ads
Cons
Will have to manage parts of your ad strategy
Requires some technical skills
Three pricing tiers with limitations for the first two levels
You can read customer reviews for AdPushup on Trustpilot here.
6. Media.net
Media.net is Yahoo! Bing network's demand platform. They also provide a programmatic platform with header bidding for desktop and mobile apps.
Pros
One tag lets you run contextual ads, display ads, and native ads
24/7 support team
Easily integrates with 3rd-party partners
Real-time bidding dashboard
Cons
You can read customer reviews for Media.net on G2 here.
7. Newor Media
Newor Media is ad monetization technology powered by AI and machine learning. Websites must be willing to have at least two ad units and the minimum traffic requirement is 30,000 monthly visitors from the United States in order to join.
Pros
Customer support response within 1 hour, on average
Payments guaranteed on a NET 30 basis
Ads are optimized for site speed
Most ads are Google ads
Cons
Not a full-service ad management platform
Only serves English-language sites
Limited selection of ad formats
You can read customer reviews for Newor Media on Trustpilot here.
8. Raptive
Raptive (formerly CafeMedia and AdThrive) is a growth partner for content creators, marketing enterprises, and advertisers. Their services include ad management, business consulting, and technology solutions.
Pros
Branded sponsorships and direct ad inventory sales for more relevant ads
A/B testing technology
Additional services to help you grow your business besides just advertising
Cons
There are often growing pains when two companies merge
They may be less focused on providing the best ad strategy because they're attention is split between multiple services
Their high impact ad formats can alter the user experience
Raptive doesn't have any customer reviews on G2 or Trustpilot yet, however, you can read customer reviews for AdThrive on G2 here.
9. Infolinks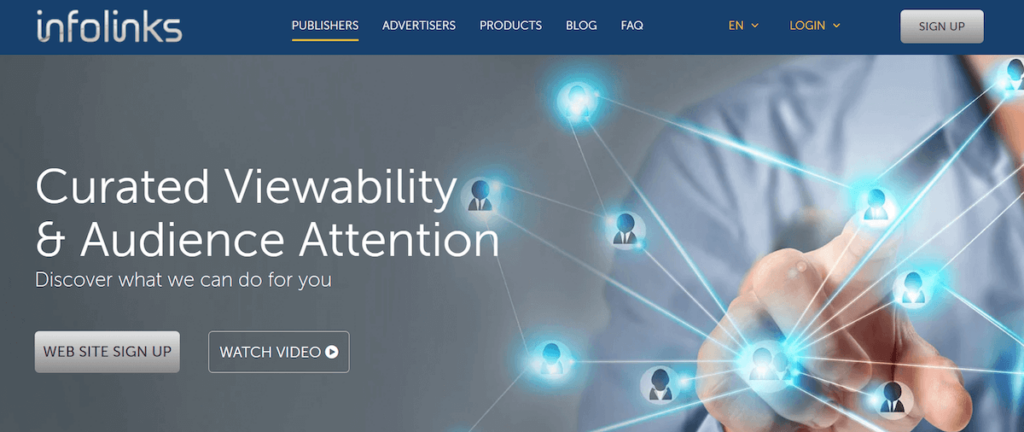 Infolinks is an advertising network that specializes in contextual advertising and serves both publishers and advertisers. Infolinks is based on cost-per-click (CPC), not CPM.
Pros
Ad types include InText, InFold, InTag, InFrame, and graphic banner ads
InFold uses a search engine to deliver targeted ads
Cons
They have minimum payment threshold for different payment methods
Requires technical skills
You can read customer reviews for Infolinks on G2 here.
10. BuySellAds
BuySellAds is a publishing partner for websites, newsletters, and podcasts that want to monetize traffic through contextual ads. They connect publishers to high quality advertisers in the business, crypto, design, consumer, and developer niches.
Pros
As a premier partner, you'll have an account manager
They offer complimentary accounting support
Easy to use reporting platform
Cons
Without premier access, you'll need your own sales team
Sell-serve platform only
You can read customer reviews for BuySellAds on G2 here.
11. Adsterra
Adsterra helps publishers boost eCPM through display advertising on both desktop and mobile apps. They also work with social marketers and affiliate marketers who know how to monetize your social media presence.
Pros
24/7 online support chat to help you manage ad layout optimization
Ad formats include popunder ads, banners, social bar, Direct Link and VAST video
They advertise a 100% fill rate
Cons
Requires technical skills and ad optimization expertise
$5 minimum payout rate
You can read customer reviews for Adsterra on Trustpilot here.
Snigel provides website owners with AI ad optimization technology and dedicated ad management experts who create, implement, and manage a fully customized ad stack and strategy for you. In addition to maximizing revenue, Snigel helps you deliver fast page load and positive user experiences. To see how we can help grow your ad revenue, get in touch.