Most publishers look for a Mediavine alternative because:
They're unsatisfied with the amount of ad revenue they're earning.
They want more control over how the ads are set up and managed.
Their application was rejected (because they don't meet the traffic requirements or for some other unknown reason).
Whatever the case, it can be difficult to differentiate between competitors and find one that will actually solve your issue.
What we've learned in the past 10+ years of helping publishers get the most out of their ad inventory is that a customized ad strategy and maximizing ad revenue go hand in hand. That's why building a customized ad stack for every website is at the core of our ad monetization solution here at Snigel.
In this guide, we start with a list of factors to consider when choosing the best mediavine alternative for your website. Then, we provide an in-depth review of Snigel. Finally, we cover seven more Mediavine alternatives and provide recommendations about what types of websites may benefit from partnering with them.
Snigel is a Google Certified Publishing Partner that connects you to 40+ top advertising networks. With our extensive suite of AI-powered ad tech and dedicated ad experts, we can help you maximize your ad revenue. Get in touch for a free assessment. 
7 Factors to Consider When Choosing a Header Bidding Partner
Not all header bidding solutions are created equal. Some provide more/less support, have expertise in a particular industry, or have more/fewer options for ad tech. All of these factors play into how much control you have over your ad strategy and your ad revenue potential.
Here are seven considerations to help you choose the best Mediavine alternative for your website:
1. Will you get personalized, ongoing support from an ad expert?

Some providers help you with the initial ad tech setup and then take a hands-off approach, leaving you on your own to manage your ad strategy. Since few publishers have the expertise to build a truly effective ad strategy, this approach often leads to lower overall ad revenue (not to mention tons of time invested from the publisher). Having a dedicated ad expert create, implement, and update your ad strategy on an ongoing basis for you can increase your ad revenue by 50% or more.
2. Do they provide a large suite of advanced AI-powered ad tech that can be customized to your needs?
Not all providers offer the same options, so you'll want to carefully compare their offerings. More importantly, you'll also want to make sure that the ad stack can be customized to the requirements of your website. Most header bidding partners use a cookie-cutter approach for all websites. Others, like Snigel, build a custom ad stack for you.
3. Will that ad tech negatively affect the user experience?
Maintaining a healthy amount of traffic is necessary for successful ad monetization. While this may seem obvious, many ad tech solutions have a negative impact on the user experience, which results in lower overall traffic (and traffic growth potential). For example, if there are too many popup ads, the user may quickly leave the site and not return. Some things to look for are lightweight ad tech that won't affect page load times, careful implementation of the ad tech, and the right balance of maximizing ad revenue without frustrating the user.
4. Do they have experience working with websites like yours?
Each website will have different ad layout needs based on the vertical it's in and the target audience. For example, weather reporting websites need to make use of quick visits from users with limited amounts of ad space. Because of this, they'll need to be able to display larger ads in a smaller space, show multiple ads one after the other in one space, divide one ad spot into two when necessary, and more. On the other hand, gaming websites can make good use of rewarded ads (i.e., a user watches an ad and gets something in return, such as a tip or extra move for the game). These scenarios require different ad tech and strategies. So, you'll want to make sure the ad partner you choose has experience working with websites in your vertical and with your target market.
5. What are the requirements for using their service?
Nearly all header bidding partners require high-quality, original content on your website and no bot traffic. From there, there will be different traffic or daily revenue requirements for joining. Many providers offer different levels of service depending on how much traffic your website receives, so even if you qualify, you'll want to pay close attention to what level of service you actually qualify for. Below, we cover a mix of providers who serve small publishers and/or large publishers.
6. Are there any hidden fees?
Most ad monetization solutions operate on a revenue share model (i.e., they take a percentage of ad revenue earned with their software). With some providers, like Snigel, this will be your only fee. Other solutions charge additional fees for onboarding, advanced services, customer support, and more.
7. Will you have to sign a monthly or yearly contract? 
Some ad tech solutions require you to sign a monthly or yearly contract. If you decide to leave early (because you're unhappy with the service or another solution is able to increase your ad revenue), you'll likely face heavy fines. Other solutions, like Snigel, let you leave at any time without any consequences.
To learn more about the different options that are available, read this in-depth guide on header bidding solutions.
Snigel: Highly Customized Ad Stack for Maximum Ad Revenue
Snigel is a full-service ad monetization solution complete with:
AI ad optimization technology that ensures you get the most revenue from every impression while serving a limited number of high quality ads that keep your users happy.
Dedicated ad experts who create and diligently manage a customized ad strategy for you. (You can be as involved or uninvolved as you desire.)
Maintaining a good user experience (e.g., fast page load speed, relevant ads) and maximizing ad revenue are at the heart of what we do.
Snigel has experience working with websites in many different verticals with a wide variety of target audiences including technology, education, music, travel, forum, gaming, reference-style websites (e.g., dictionaries, weather reporting), and many more.
We work with large publishers producing original, high-quality content and making at least 50 USD per day.
You can start for free and won't be locked into a yearly or monthly contract. Easily test Snigel on 10% of your traffic to see how we can help you grow your ad revenue.
How We Build and Implement Your Ad Strategy
Many ad account managers just try to upsell you on the latest products or push aggressive advertising techniques instead of carefully considering what the best long-term strategy for your website is.
Snigel's ad management experts are invested in the long-term growth and success of your website. We start with a user-friendly ad setup and then work with you to determine how to best sustainably grow the site over a long-term period.
For example, our client Windfinder wasn't interested in video advertising, new ad formats, or adding more ad units. So we implemented other strategies such as AI bidder optimization and server-side header bidding. (We cover these features in more detail in the next section.) The result was a 30% increase in ad revenue. You can read the case study here.
As another example, Radiopedia.org aimed to limit the number of ad units and keep all advertising as separate from the content as possible. However, they were open to implementing video ads. By adding video ads, running a full audit of their ads, and a few other adjustments, we were able to decrease the number of ads displayed while increasing revenue. You can read the case study here.
Not only will your dedicated ad management expert create a fully customized ad strategy based on your requirements, but they will also implement that strategy for you. Then, they perform ongoing A/B tests and monitor your website to ensure the best solutions are always being implemented and there are no issues with the ad setup.
How We Customize Your Ad Stack
Many ad monetization partners claim to offer a customized solution for websites. However, many of them provide you with a standard set up and then leave you on your own to handle any further customizations via a self-serve platform. Typically, these self-serve platforms will have a few settings that you can toggle on or off, but these options are rarely enough. More often than not, publishers will run into an issue that can only be solved by adding or changing the underlying code of the ad tech solutions. And, very few publishers have the technical skills to handle that.
Snigel takes care of all ad tech customizations so you don't have to. Not only does this relieve you of the burden of managing your own ad stack, it also opens the door to more customization opportunities. Our team is intimately familiar with Snigel's technology, and they have years of experience applying it to unique situations for hundreds of websites.
Plus, maintaining good Core Web Vitals (i.e., Google's criteria for determining how good the user experience is for a website) is built into our ad stack. So, our ad tech experts will help you improve and maintain your Core Web Vitals:
What's Included in Snigel's Ad Stack
Snigel's AdEngine is our data-driven header bidding solution and the backbone of our AI-powered ad stack. To help you get the highest CPMs for your ad inventory and ensure high-quality ads, AdEngine connects you to all major advertising demand sources, including:
OpenX
Amazon Publisher Services
Index Exchange
ConnectAd
Magnite
District M
And many more
Snigel's ad stack also includes ad optimization features…
AI bidder optimization, which is used to take advantage of client- and server-side header bidding in addition to matching users with the best bidders for their country, device, and browser
Dynamic floor pricing, which is used to increase your CPMs and prevent unfilled ad space by combatting bid shading
Smart refresh, which is used to display more ads within one ad space when certain event-based, time-based, or action-based triggers occur
… next generation ad format technology…
Adaptive ads, which is used to fill ad space with whatever combination of ad sizes will return the highest revenue (e.g., one ad for $1.30 vs two smaller ads for $0.75 each)
Super adhesive ads, which is used to display large ads in a smaller ad space (the ad moves within the ad space while the user scrolls)
Interactive ad units, which is used to engage the user and increase the amount of time the user spends viewing the ad
… plus…
AdStream, which lets you display high-quality, native video ads in a variety of formats
AdConsent, which lets you easily comply with GDPR and CCPA regulations while also earning ad revenue from more of your website's traffic.
… and much more.
To see how Snigel can help you squeeze every dollar out of your ad inventory, get in touch with our team.
7 More Mediavine Alternatives (Pros + Cons)
Google AdSense: Ad Monetization for Startup Websites
Google AdSense lets publishers display ads using Google's demand platform (whereas Snigel connects your website to 40+ demand partners). You can be paid per click or per impression.
Many small bloggers or content creators can create an account with Google AdSense, and it's fairly easy to implement, making it a good fit for smaller publishers and beginners. Whereas most ad management platforms require that most of your traffic come from Tier 1 GEOs (i.e., United States, Canada, United Kingdom, etc.), AdSense doesn't have that restriction.
Recommendation: AdSense may be a good choice if you're just starting out and have low levels of traffic, most of your traffic is from Tier 3 GEOs, if you have a CTR higher than 3% on your ad units, or if you don't meet the minimum traffic requirements of other ad partners.
Further reading: 
SHE Media: Primarily for Female Target Audiences
SHE Media serves self-identified women-owned and minority-owned publishers in a variety of ways including ad management. Their ad management platform is geared toward providing highly targeted advertising. It connects to major SSPs, including Google AdX, Xandr, Magnite and more. They also support social media advertising, sponsored campaigns, and other opportunities to grow your brand.
Recommendation: If you have 20K+ pageviews per month and a WordPress website geared towards women, SHE media may be a good fit.
Monumetric: Multiple Tiers for Price Conscious Publishers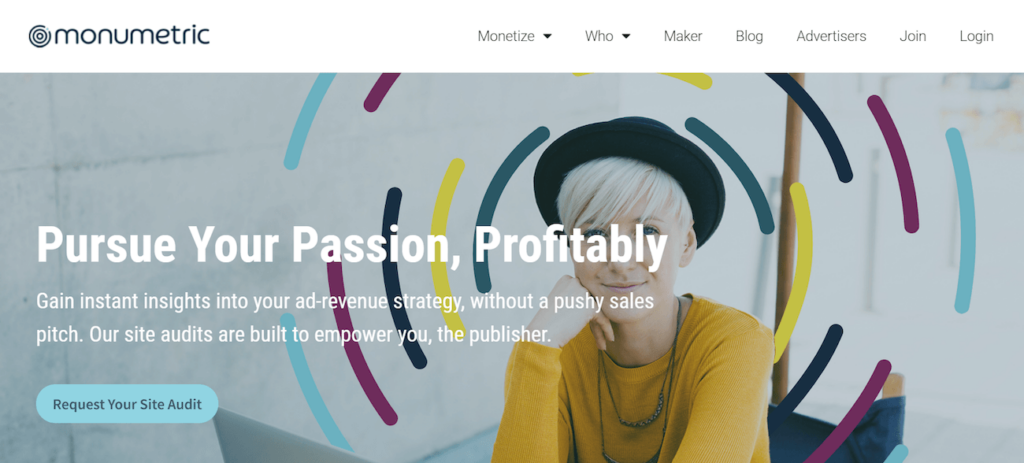 Monumetric provides a self-serve ad management platform (with a header bidding wrapper that's run from your own server) and regular site audits. They perform routine site audits for all customers in order to make recommendations about how to improve ad placement and other aspects of your ad strategy. However, implementing those changes is up to you. They do offer some support, but the level of support will depend on the pricing tier you choose (and are able to get).
Monumetric has four pricing packages with different monthly pageview requirements, and each one comes with different levels of support and ad tech options. The entry tier has a setup fee, but the other tiers are free to join.
Recommendation: Monumetric may be a good fit if you're price conscious and willing to forego some ad tech and support.
Further reading: Ezoic vs Monumetric vs Snigel (Highest CPM, Cost, and More)
Adsterra: Social Media Ad Monetization for Small Publishers
Adsterra offers a self-serve platform for monetizing website traffic and mobile app traffic. They also provide services to connect you with social marketers and affiliate marketers who can help you monetize your social media presence. The types of ads Adsterra supports include popunder, banners, social bar, Direct Link, and VAST video.
Although they offer a 24/7 online support chat, the platform is largely meant to be used independently. Adsterra doesn't require a specific number for monthly sessions or pageviews in order to join their platform (however, they do require quality content and no artificial traffic).
Recommendation: Adsterra may be a good option for small publishers with blog traffic, mobile app traffic, and a social media presence.
Media.net: Ad Monetization by Yahoo! Bing Network
Media.net is Yahoo! Bing's display ad network and programmatic platform for desktop and mobile apps. With one tag, you can run contextual ads, display ads, and native ads.
Media.net provides a 24/7 support team to help you integrate with third-party partners and fix issues with your ad stack. Finally, they provide a reporting dashboard where you can view metrics surrounding revenue, CPM rates, real-time bidding, and more.
Recommendation: Media.net may be a good option for publishers with advanced technical skills.
Raptive: Business Solutions for Content Creators
Raptive (formerly CafeMedia and AdThrive) provides a variety of services to help business owners who want to make money blogging. These services include ad management, business consulting, and technology solutions. As part of their ad monetization services, Rapive offers branded sponsorships and direct ad inventory sales.
One benefit of Raptive is that they offer a payment guarantee. However, a downside for smaller publishers is that they require 100K monthly pageviews to join.
Recommendation: Large publishers looking for more than just programmatic advertising may benefit from all of Raptive's services.
Ezoic: No Traffic Requirements
Ezoic is a popular header bidding partner, however, they do require an annual contract for their premium subscription, and their pricing structure is less 'cut and dry' than some other ad partners. They start with a standard revenue share model, but not all of their services are included in this fee.
That being said, they do offer an entry level plan for small websites and utilize several tools powered by artificial intelligence. However, you will be responsible for implementing the technology yourself.
Recommendation: Ezoic may be a good option for small websites that don't meet the requirements of other platforms, however, larger websites often find the customization features and support lacking.
Further reading: A Detailed Comparison of the Top 11 Ezoic Alternatives
Final Thoughts
If you're a small website or just getting started with ad monetization, your options will be more limited. So, starting with a platform such as AdSense may be a good option.
Once your following has grown, or if you're already making $50 USD per day, Snigel can provide full service ad management, a customized ad strategy, and AI-powered monetization technology. On average, websites that switch to Snigel see a revenue increase of 57%.
You can test Snigel out on just 5%-10% of your traffic risk free. Get in touch for a free assessment.