Most publishers looking for an AdThrive alternative typically fall into one of two buckets:
They don't meet the minimum traffic requirements (or were rejected).
They've heard that other providers can help them earn higher CPMs.
In this guide, we start by showing how Snigel helps large publishers increase their cost per mille (CPM) and then provide a list of ad partners that work with small publishers. 
Snigel is a Google Certified Publishing Partner that connects you to 40+ of the best SSPs . With our extensive suite of AI-powered ad tech and dedicated ad experts, we can help you maximize your ad revenue. Get in touch for a free assessment.
Snigel
Best AdThrive Alternative for High CPMs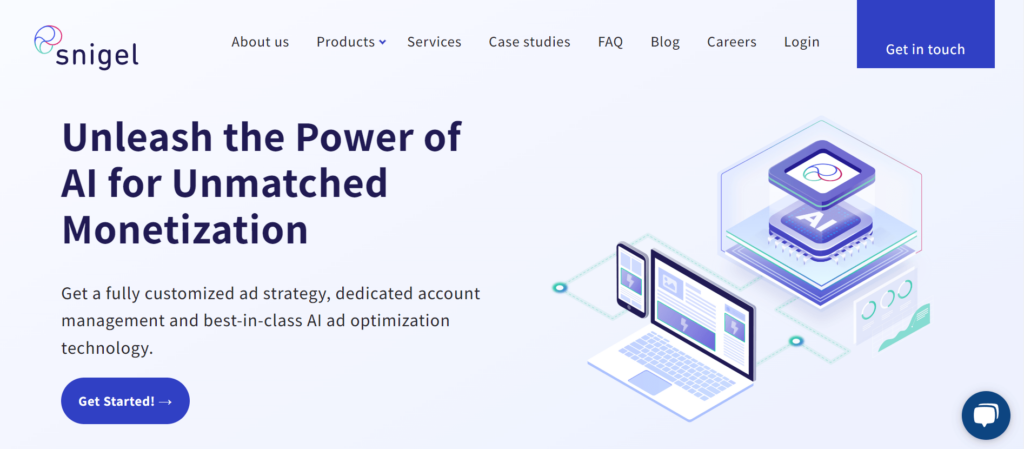 Snigel provides publishers with advanced AI-powered ad tech and dedicated ad experts who build custom ad strategies to maximize ad revenue without compromising page load times or a great user experience.
At Snigel, we have 10+ years of experience working with websites across many different verticals, including technology, gaming, education, music, and more. Because we take a highly customized approach to every ad setup, we can help publishers in any niche who are interested in running display advertising.
We'll evaluate any website with original, high quality content and valid traffic (i.e., no bot or fraudulent traffic) making at least $50 USD per day.
Advanced, Data-Driven Ad Monetization with AdEngine
Snigel's AdEngine is our AI-powered header bidding solution that connects publishers to all major advertising demand sources, including Google AdX, OpenX, Amazon, Index Exchange, ConnectAd, and many more.
AdEngine also gives you access to next generation ad format technology and optimization features, including:
Adaptive ads: This feature uses automation to fill ad space with whatever-sized ads will return the highest revenue. For example, the highest bid for one large ad might be $1.75, whereas, if you split the ad space into two spots, you might get $1.00 per spot. Although each smaller ad generates less than the one large ad, when combined, the smaller ads will ultimately return more revenue. Adaptive ads can increase revenue by 10–30%.
Super adhesive ads: This feature lets you display a large ad in a smaller space by having the visible part of the ad move down as the user scrolls. Since larger ads typically return a higher CPM, this is a great way to increase revenue from your available ad inventory. Super adhesive ads can increase revenue by 20+%.
Interactive ad units: These ad units engage the user by inviting them to fill out a poll, take a short quiz, or click through the ad to learn facts, tips, etc., which increases the amount of time they spend looking at the ad. The more time users spend viewing ads on average, the more advertisers will be willing to pay. Interactive ad units can increase revenue by 3+%.
AI bidder optimization: This feature allows you to take advantage of both client and server side header bidding in addition to matching users with the best bidders (i.e., the bidders who are typically willing to pay more) for their country, device, and browser. The result is faster load speed and more revenue. AI bidder optimization can increase revenue by 7+%.
Dynamic floor pricing: Bid shading is technology that allows advertisers to predict the lowest possible price they'll have to pay to win the bid, which causes publishers to miss out on revenue. To combat bid shading, dynamic floor pricing uses AI to automatically adjust floor prices every hour so that bid shading algorithms can't predict the floor price. This increases your CPM and prevents unfilled ad space. Dynamic floor pricing can increase revenue by 5+%.
Smart refresh: This feature lets you display multiple ads, one after the other, within one ad space. While many ad refresh tools are solely time-based, Smart Refresh lets you determine how often the ad changes based on the user's behavior (e.g., switching tabs, scrolling, time spent on the page). Smart refresh can increase revenue by 6+%.
Adblock revenue recovery: This tool lets you earn revenue even when users have an ad blocker enabled. It does this by switching between the typical highest paying ad formats and ads that comply with adblock regulations, depending on the user's settings. Adblock revenue recovery can increase revenue by 10+%.
Snigel's ad stack also includes:
AdStream, which lets you display high-quality video on your website in a variety of formats. AdStream can increase revenue by 23+%.
AdConsent, which is Snigel's Google certified and IAB-registered consent platform that allows the user to decide what level of ad targeting they're comfortable with. This lets you easily comply with GDPR and CCPA regulations and makes your ad inventory more attractive to SSPs and advertisers (so they'll be willing to pay higher rates). AdConsent can increase revenue by 1–2%.
On average, publishers see an increase of 57% when switching to Snigel.
Here are a few case studies that show how Snigel has helped publishers increase ad revenue:
Done for You Ad Strategy Management and Technical Support
Most ad monetization solutions provide you with a self-serve platform that's built for standard use cases and only offer limited support (i.e., they'll help you implement basic setups and fix bugs, but they won't create custom solutions for you). This is an issue because most publishers run into situations where they need a custom setup in order to increase revenue while also maintaining a good user experience. In fact, few publishers have the necessary technical skills to build the customizations that they need.
Additionally, an ad stack is only effective if you know which tools to use and when to use them. Take, for example, optimizing the desktop sidebar ad setup for a website. It takes years of experience working with many different layouts to know whether to use sticky ads, interactive ads or adaptive ads, what kind of ad refresh to run, and which SSPs to connect to the ad units.
That's why working with a dedicated ad ops specialist is essential for maximizing revenue.
Even if you are assigned an account manager to help with your ad strategy, more often than not, they'll just try to upsell you on the latest products and features — whether or not those features are the best choice for the long-term growth of your website.
At Snigel, we take a different approach. You'll work closely with a dedicated ad expert who will build, implement, and manage a custom ad strategy for you. Every ad strategy is built around maintaining good web core vitals and a great user experience.
While many account managers use a 'set it and forget it' approach — where they implement a cookie-cutter strategy and then leave you on your own to monitor and manage the set up — Snigel ad experts remain actively engaged to the point where they're simply an extension of your team. 
Plus, we handle all of the ad tech for you. This includes A/B testing, monitoring for bugs and other issues, implementing custom setups, and much more.
Pricing
Some ad monetization solutions lock you into month-long or year-long contracts. If you're unhappy with the service or find another solution that's a better fit for your website, they'll charge you heavy penalties for leaving early.
With Snigel, you can test out our ad stack on just 5–10% of your traffic and leave at any time without consequences. Plus, all of our ad tech and support are included in one monthly revenue share fee. There are no hidden costs or setup fees.
What Our Customers Are Saying
TrustPilot is a trusted software review site where Snigel has a rating of 4.7 out of 5 stars (at the time of writing).
Here are a few of those reviews:
To see how Snigel can help you squeeze every dollar out of your ad inventory, get in touch with our team.
6 AdThrive Alternatives for Small Publishers
Mediavine
Mediavine offers both programmatic advertising and influencer marketing for lifestyle bloggers. In order to join, you must have a good standing with Google AdSense, 50K sessions in the previous 30 days, and long-form content.
Their ad tech includes lazy load, video, ad reporting (for real-time quality control), automated ad placement, and in-content ad settings. They offer self-audit and self-serve tools to make it easier for you to build and manage your ad strategy and 24/7 technical support.
You'll be locked in for the first 90 days. After that, you'll have to give a 30-day notice before quitting.
Mediavine's revenue share model starts at 25%. (You keep 75%.) Your revenue share (i.e., the percentage of ad revenue you keep) increases as the total number of ad impressions you get increases.
Learn more: 8 Best Mediavine Alternatives to Earn More Revenue
Infolinks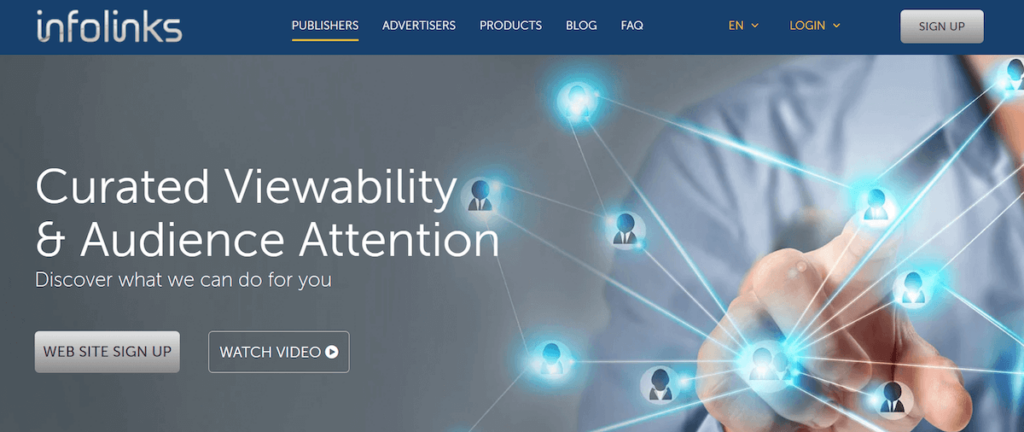 Infolinks may be a good option for new/beginner publishers because they consider any website in their approval process (unlike some of the other options on this list with traffic requirements).
They offer in-text link ads, search and display, sticky top banner for mobile, sidebar, and interstitial ads. Publishers can use their contact form to contact customer support or view their library of support videos.
Publishers only get to keep 65% of the revenue they earn with Infolinks.
Google AdSense
Google AdSense is a popular ad platform for publishers just getting started. Unlike all of the other options in this list, Google adsense is an advertising network, not a header bidding solution. Instead of connecting you to multiple demand sources, they aggregate ad inventory from multiple publishers and sell it to advertisers via Google's demand platform.
To be eligible, you have to meet Google's publisher policies, which essentially means you have to be 18 years old and have a site that's at least three months old and that attracts consistent traffic.
Since they're an ad network and not a header bidding technology company, the technology and options for customization are very limited. Publishers simply add a tag to the header of their website, and artificial intelligence handles the rest.
Learn more: 9 of the Highest Paying Ad Networks: In-Depth Guide 
Monumetric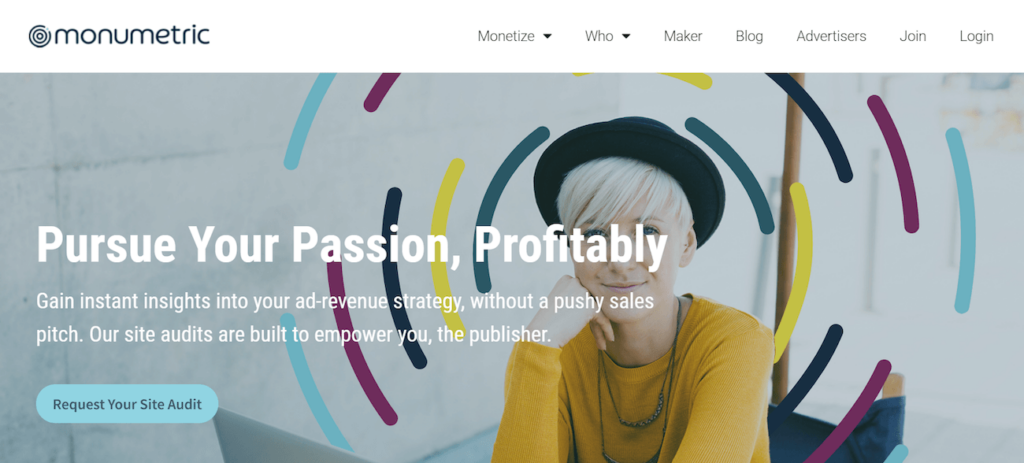 Monumetric is an ad management platform for content creators using WordPress or blogging-specific platforms. Their eligibility requirements include specific monthly pageviews, sidebar width, where your traffic comes from, minimum required ads, and more.
However, these requirements differ depending on the plan (Propel, Stratos, Ascend, or Apollo). For example, the entry-level plan has a monthly pageview requirement of 10K, whereas the highest plan requires 10MM pageviews per month.
After the initial onboarding process, the type of support you'll receive, the ad tech you'll have access to, and the contract length will also depend on your plan. Some of the ad tech Monumetric offers includes client side header bidding, private marketplace, mobile ads, in-image ads, in-line ads, and video ads.
Some of the higher plans include a one-time $99 setup fee.
Learn more: Ezoic vs Monumetric vs Snigel (Highest CPM, Cost, and More)
Ezoic
Ezoic's eligibility requirements are lenient to start (their standard plan has no pageview requirements) but increase if you want to access their premium services (e.g., dedicated account support).
Their ad tech is somewhat limited and doesn't include features such as super adhesive ads or interactive ads. However, they do offer header bidding, A/B testing of ad layouts, direct deals, and more. Publishers can manage their ad stack with Ezoic via a self-serve platform.
Ezoic's standard plan doesn't include a lock-in clause, however, the premium plans are signed on a yearly basis (with penalties for leaving early). Plus, some of the premium plans require a monthly fee in addition to a portion of revenue earned. Revenue shares vary by plan.
Learn more: A Detailed Comparison of the Top 11 Ezoic Alternatives
Media.net
Media.net by Yahoo! Bing has three main products: marketplace, contextual ads, and programmatic advertising. For the purposes of this list, we'll focus on programmatic advertising.
To work with Media.net, websites typically need to have 10K pageviews, however, they'll consider smaller sites as well. Their ad technology includes a header bidding tag for contextual ads, display ads, and native ads.
They offer 24/7 support for managing third-party integrations and for fixing issues with existing functionalities (not with creating new ones).
You can reach out to their team for pricing details.
Snigel helps you maximize revenue from your ad inventory with highly customized ad strategies and advanced ad technology. Plus, Snigel helps you maintain fast page load and positive user experiences. To see how we can help grow your ad revenue, get in touch.